Government appoints new interim Small Business Commissioner
Phillip King has been appointed the interim Small Business Commissioner with immediate effect.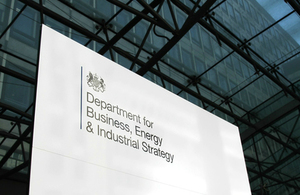 Mr King will head the independent Office of the Small Business Commissioner in Birmingham. It was launched in December 2017 to ensure fair payment practices for Britain's small businesses and support them in resolving their payment disputes with larger businesses and bring about culture change. To date, it has recovered over £6.5 million owed to small businesses.
Mr King was Chief Executive of the Chartered Institute of Credit Management (CICM), which is responsible for administering the voluntary Prompt Payment Code. Signatories to the Code sign up to pay 95% of invoices in 60 days, with an ambition to move toward 30-day payment terms. Mr King will take responsibility for transferring the administration of the Code in his new role at the Office of the Small Business Commissioner. This will fulfil the commitment made by government in June last year to bring late payments measures under one umbrella.
The government will shortly recruit for a permanent Small Business Commissioner and has committed to strengthening the powers of the Small Business Commissioner to hold to account the minority of larger businesses who fail to make payments on time. New powers could include compelling information and disclosure of payment terms and practices, imposing financial penalties or binding payment plans on large businesses found to have unfair payment practices.
Small Business Minister Kelly Tolhurst said:
In Philip, small businesses will have a real champion with a proven track record of tackling late payments. This is an important time for the Office of the Small Business Commissioner as we seek to strengthen its powers and Philip is absolutely the right person to lead it at this time.
Philip King said:
I am delighted to have been appointed interim commissioner and given the privilege of directly supporting the government in helping small businesses to prosper and grow.

Recognising the needs of businesses both large and small is an essential part of resolving potential conflict. I would encourage small businesses to engage with the commissioner's office at the earliest opportunity.
Mike Cherry OBE, National Chairman of the Federation of Small Businesses, said:
We welcome today's appointment of an Interim Small Business Commissioner. Using his 'name and shame' powers should make a real difference. We look forward to the government's wider package of reforms to come, including improved resources and increased powers, a tougher Prompt Payment Code and Audit Committees' oversight of payment practices.
Philip King biography
In a career spanning 40 years, Philip has held senior credit management roles in the high-tech and communication sectors, in distribution and retail, including spells at Olivetti and Vodafone. He was appointed Director General of the Institute of Credit Management (ICM) in 2005, and later Chief Executive, and was behind the Institute's drive to become a Chartered body (the CICM) in 2015.
About the Small Business Commissioner
The Small Business Commissioner considers complaints from small businesses (that is businesses with fewer than 50 staff) about payment problems they are encountering concerning their larger business customers (with over 50 employees), making non-binding recommendations on how the parties should resolve their disputes.
Additional information
This interim appointment is regulated by the Commissioner for Public Appointments and has been made in line with the Governance Code for Public Appointments.
Published 27 January 2020
Last updated 27 January 2020
+ show all updates
We have added a quote from Mike Cherry OBE, National Chairman of the Federation of Small Businesses

First published.