News story
Government appoints Life Sciences Business Adviser
Chris Brinsmead will support close and collaborative working on life sciences across Government and with key partners. He will work with the…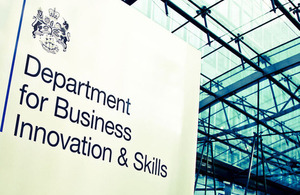 Chris Brinsmead will support close and collaborative working on life sciences across Government and with key partners. He will work with the life sciences industry, both in the UK and overseas, and with the NHS and academia to provide independent advice and challenge to Government.
This independent expert will play a vital role in helping to ensure that Government can deliver a supportive business environment for UK life sciences that promotes innovation, growth and ensures that patients have access to the latest medicines and medical technologies.
Universities and Science Minister David Willetts said:
"The life sciences are a highly innovative industry and one in which the UK has significant strengths. There is real potential for the industry to contribute to our future economic growth as well as meeting healthcare challenges. To realise this potential, it is vital that Government takes a coordinated approach to policy-making and I am delighted Chris Brinsmead will be supporting Lord Howe and me."
Health Minister Lord Howe said:
"The UK has a world class life sciences industry, producing a number of the leading innovative medicines and medical technologies from which patients in the NHS and around the world have benefited. We can be proud of the UK-based life sciences industry which is key to our future health and our future prosperity. We want to maximise the relationship between the NHS and the life sciences sector and I warmly welcome the appointment of Chris Brinsmead in his vitally important role to support us in achieving this."
Chris Brinsmead said:
"I know from experience that it is vital for Government and industry to work together to ensure that the UK is a great place for life sciences. I am delighted to take on this role to support the Government in realising the opportunities that exist in this sector."
The appointment recognises that Government policy impacts all stages of life sciences, from our investment in the research base, through to our enterprise, innovation and finance policy, through regulation and standards, to skills and access to the NHS market.
The Life Sciences Business Advisor will support the NHS to contribute to economic growth and innovation; support communication of health and business policy developments to the NHS, academia and the life sciences industry; and champion the UK both as an investment location and as the trading partner of choice in life sciences.
---
Notes to editors:
---
The UK has a world-leading life sciences industry (comprising the pharmaceutical, medical biotechnology and medical technology sectors), which employs over 120,000 people and generated over £10bn in value added in 2008. The Government is both a major regulator, and, through the NHS, the largest customer in the UK. The industry's strength is based on high quality research and innovation, and a growing reputation for strong collaboration, for example between industry and the UK's world class research base, leaving it well placed to take advantage of global trends, such as an aging population that will increase demand for high-quality healthcare.

Chris Brinsmead has worked for over 30 years in the healthcare industry. He has worked in many different roles locally in the UK and Canada and also internationally. He joined ICI in 1980, having obtained a degree in engineering. Most recently, he has held the positions of Chairman of AstraZeneca Pharmaceuticals UK, and President of the Association of the British Pharmaceutical Industry (ABPI). He worked closely with Government in recent years - he is Chair of the UKTI Life Sciences Marketing Board, and has also served as a UKTI Business Ambassador, and as co-chair of the Ministerial Industry Strategy Group (MISG) working group on R&D.

This non-civil service appointment is made between BIS and DH for an initial period of one year, with the possibility of extension to a second year. Chris Brinsmead will not take any remuneration for this role. He will be reimbursed for travel and subsistence costs incurred in performing this role.

For more information please contact Julie Skipp, BIS Press Officer, on 020 7215 6577 / julie.skipp@bis.gsi.gov.uk; or Niken Wresniwiro , DH Press Officer, on 020 7210 5281 / niken.wresniwiro@dh.gsi.gov.uk .

BIS' online newsroom contains the latest press notices, speeches, as well as video and images for download. It also features an up to date list of BIS press office contacts. See http://www.bis.gov.uk/newsroom for more information.
Notes to Editors
Contact Information
Name BIS Press Office Job Title
Division COI Phone
Fax
Mobile
Email NDS.BIS@coi.gsi.gov.uk
Published 22 November 2010