Government announces timetable for Colonial administration files to be made public
Foreign Office Minister David Lidington has announced to Parliament that the large collection of colonial administration files held by the Foreign Office will be made public over the next two years.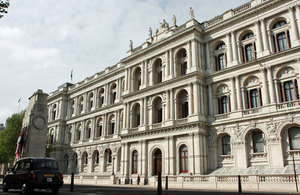 In a written statement to Parliament the Foreign Office Minister said:
The timetable for transfer of these files to The National Archives (TNA), which has been approved by Professor Badger, the Independent Reviewer appointed by the Foreign Secretary, follows our undertaking to move rapidly to put these papers into the public domain.
In keeping with this Government's commitment to transparency and openness, the entire collection of migrated files will be transferred to TNA. None of the papers will be destroyed. Redactions will be kept to an absolute minimum, for example in order to comply with the Data Protection Act. We expect that 99% of the material will be available for the public to read.
The files will be reviewed and transferred in alphabetical order of the colonial territory concerned with the exception of Kenya, Cyprus, British India Ocean Territory (BIOT) and Malaya, which will be prioritised because there has been particular interest. The first batch of files, representing around 16% of the total collection, is expected to be available for public view at TNA in April 2012. This will include material from Aden, Anguilla, Bahamas, Basutoland, Bechuanaland and Brunei as well as the BIOT and Malaya files and the first tranche of papers from Kenya and Cyprus. Given the volume of material from Kenya and Cyprus, the remaining files will be reviewed and transferred in batches over the following months.
The aim is to have all the papers transferred before the end of 2013.
Published 5 December 2011