News story
Government announces plans to encourage the use of Gift Aid
The government is announcing plans to further support charitable giving via Gift Aid.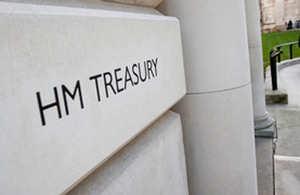 As thousands of runners set off this morning to raise millions of pounds for charity, the government is announcing plans to further support charitable giving via Gift Aid.
London marathon runners raise around £50 million per year, consistently breaking fundraising records. The government wants to make sure that Gift Aid is claimed on as many of these donations, and other charitable fundraising, as possible.
The government will publish a consultation response giving details on how it will be made simpler for individuals to add Gift Aid to their donations using intermediary organisations such as mobile phone providers and charity giving websites.
Currently, the name and address of the donor must be provided before donating. In the future, when donating through intermediaries such as mobile phone and donation websites, these details will be retained, making it easier to donate multiple times and to different charities. This should increase the amount of income charities receive.
This confirms that intermediary organisations will be given a greater role in the administration of Gift Aid, meaning mobile phone companies and charity giving websites can do even more to help good causes. This is the first step towards giving intermediaries a greater role in administering Gift Aid.
Financial Secretary to the Treasury, Nicky Morgan said,
We want to ensure that charities can maximise their charitable donations in every way possible. Gift Aid is a vital tax relief for charities, and it is important that it works as efficiently as possible to encourage as many donors to use it as possible.

Having run the marathon last year, I know how hard everyone has been training. I wish everyone the best of luck for the weekend.
Nicky Morgan ran the London Marathon in 2013, raising over £2,500 for charity, of which £550 came from Gift Aid.
This change to intermediaries builds on budget announcements to encourage the use of Gift Aid. The government will establish a new HMRC outreach team to encourage small charities to access Gift Aid and help them with their claims as well as highlighting the other benefits they can enjoy including our Gift Aid Small donations scheme and the £2,000 off their National Insurance bill with the government's employment allowance.
A new working group, made up of charities and representative bodies will look at revising the Gift Aid declaration, which informs the donor about Gift Aid and ensures they're eligible, to make the content clearer and easier for the donor to understand. It will also develop promotional material to encourage small charities to use Gift Aid.
The government will also undertake research into the behaviour of people who use Gift Aid to discover what barriers exist that make it more difficult for people to use this tax relief and consider the use of 'nudge' techniques to increase take-up.
Published 14 April 2014