News story
Government announces first LEP retail pathfinder
The LEP - run by economic development company GFirst - will develop and pilot a range of retail initiatives such as Portas Review recommendations…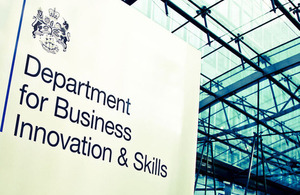 The LEP - run by economic development company GFirst - will develop and pilot a range of retail initiatives such as Portas Review recommendations and those that will emerge from the Government's Retail Growth Strategy.
In addition, it will share sector expertise with other LEPs and make recommendations to businesses and Government on the work that is taking place in the retail sector.
Business Minister Mark Prisk said: "Retail is the largest private sector employer in the UK, providing jobs to around 2.9 million people and contributing over £290 billion to the economy every year.
"I'm pleased to name Gloucestershire LEP as a key partner in supporting the Government's retail agenda. The LEP already has a strong retail sector forum, with very experienced retailers and retail property experts, so I am confident it will generate a wealth of valuable lessons that other local areas can then apply."
Diane Savory, Chair of Gloucestershire LEP, added: "We are pleased that Gloucestershire's great work within the retail sector has been recognised by the Government and will be working with a range of partners to ensure that we get the right results.
"We have some fantastic retail stories in the county and we want to ensure that with our hard work and knowledge that will continue. This is a real opportunity for us to show how effective pathfinders can be."
The Business Minister made the announcement this morning at the Retail Week Conference, where he also reaffirmed the Government's commitment to supporting the retail sector by cutting red tape, helping high streets compete and improving the skills base.
There he outlined the Government's plan to create a simpler, single consumer bill of rights in place of the current 12 different sets of consumer legislation.
The Minister added: "It's important that businesses get the support they need to remove red tape and protect their livelihoods so they can get on with the task at hand - to create new jobs and support growth for the UK economy."
---
Notes to editors:
Gloucestershire LEP
---
GFirst is an economic development company that promotes Gloucestershire as a location for business, for visitors and for investors. We're also the driving force behind Gloucestershire Local Enterprise Partnership (LEP).

The LEP was set up by the government in May 2011 as one of 38 across the UK aimed at inspiring economic growth. Gloucestershire's LEP, driven by GFirst, has set up nine sector groups to build the county's economy: Creative Industries, Business and Professional Services, Construction, Engineering and Manufacturing, Environmental Technology, Logistics, Tourism, Retail and ICT.

For more information contact Sarah Webb at GFirst on 01452 328315.
Portas Review
On 17 May 2011 the Prime Minister announced that he had asked Mary Portas, leading retail marketing consultant, to undertake a review of the English high street. The report was published on 13 December 2011.
The purpose of the Portas review was to identify what the Government, local authorities, businesses and others can do together to promote the development of new models of prosperous and diverse high streets. It forms part of the Government's work on the Growth Agenda.
The main aims of the review were to:
Examine the case for developing town centres that contribute to promoting economic growth, creating jobs and improving quality of life in local areas

Explore new business models for high streets relevant to the modern consumer

Recommend what action government, businesses and other organisations should take to create diverse, sustainable high streets where small businesses and independent retailers are able to thrive.
Find out more about the Portas Review here.
Growth Strategy
Growth is the Government's top priority and every part of Government is focused on it.
BIS and Treasury set up the Growth Review in November 2010.
The Growth Review invites business to take part in a fundamental assessment of what each part of Government is doing to create the best conditions for private sector growth. It is a rolling programme that will last the lifetime of this Parliament.
The outcomes of the initial phase of the Growth Review were announced in the Plan for Growth as part of Budget 2011.
BIS's online newsroom contains the latest press notices, speeches, as well as video and images for download. It also features an up to date list of BIS press office contacts. See [http://www.bis.gov.uk/newsroom](http://www.bis.gov.uk/newsroom) for more information.
Notes to Editors
Contact Information
Name BIS Press Office Job Title
Division COI Phone
Fax
Mobile
Email NDS.BIS@coi.gsi.gov.uk
Name Andy Aston Job Title
Division Department for Business, Innovation & Skills Phone 0207 215 6963 Fax
Mobile
Published 14 March 2012