News story
Government and industry collaborate to develop congestion solutions
A summit today on 'intelligent mobility' hosted by the joint government/industry Automotive Council will put these problems and the business…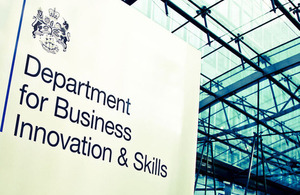 A summit today on 'intelligent mobility' hosted by the joint government/industry Automotive Council will put these problems and the business opportunities at the top of the agenda.
The UK has a good track record in the development of new technologies and world-class specialist businesses and the summit will focus on how to exploit this talent.
Automotive manufacturers, fleet operators, IT and communications specialists and infrastructure providers will address the challenges of how 'congestion-busting' solutions developed in the UK could help attract foreign investment as well as boost the UK economy.
Business Secretary and Co-Chair of the Automotive Council Vince Cable said:
"Increasing road capacity while tackling congestion means we will need to be more intelligent in managing the road network and the vehicles that use it. Intelligent mobility could also benefit the economy allowing businesses to be more competitive, reducing logistics costs, giving more predictable journey times and reducing CO2 emissions. Achieving an intelligent mobility solution will need different sectors and disciplines working together. Today's summit has started that debate."
The Government is aiming to make the UK the technology hub of Europe. The establishment of the Transport Systems and Future Cities Catapult Centres will enable greater collaboration between world leading UK businesses, innovators and academics.
Transport Secretary Justine Greening said:
"Technology is changing rapidly and it's vital we move with it to develop an intelligent road transport strategy. Tackling congestion is a priority and technology will play its part. It's important that individuals are able to tailor their journeys based on up-to-date information, making their journeys easier. Our focus is to support economic growth, reduce environmental impacts, and to support the safety and security of road users."
Automotive Council Co-Chair Professor Richard Parry-Jones said:
"This summit represents a chance for the UK's auto industry to bring more R&D investment into the country. Designing cars that intelligently navigate their way through traffic is the kind of challenge that calls on the country's combined auto heritage and budding technological expertise. Networked vehicles under digital control are going to become the future of car manufacturing."
---
Notes to editors:
Interviews with spokespeople from Ford, Nissan, BMW and GM are available on request. Please contact Sarah Mulder, Helen Fitzhugh or Kelly Kerruish at kwittken + company on 020 7401 8001 or 07528 378489 or email: smulder@kwitco.com or hfitzhugh@kwitco.com or kkerruish@kwitco.com.

The Automotive Council has used the term 'intelligent mobility' to describe any system that delivers increased traffic flows, improved safety, and measurable user benefits whilst reducing energy consumption, emissions and congestion.

The UK Automotive Council published a report in December 2011 calling for integrated use of existing technology to improve our transport networks. Intelligent Mobility: A national need? can be downloaded here: http://www.automotivecouncil.co.uk/intelligent-mobility/.

The joint industry/government Automotive Council was set up in 2009 as part of the previous government's response to recommendations made in the industry-led report from the New Automotive Innovation and Growth Team (NAIGT). It is co-chaired by the Business Secretary Vince Cable and Professor Richard Parry-Jones. Its main aims are to enhance the attractiveness of the UK as a location for global automotive investment, promote UK-based manufacturers and technologies, strengthen the supply chain and position the UK as a leading global player in developing, manufacturing and using ultra-low carbon technologies. http://www.automotivecouncil.co.uk/

BIS's online newsroom contains the latest press notices, speeches, as well as video and images for download. It also features an up to date list of BIS press office contacts. See http://www.bis.gov.uk/newsroom for more information.
Notes to Editors
Contact Information
Name BIS Press Office Job Title
Division Department for Business, Innovation & Skills Phone
Fax
Mobile
Email bispress.releases@bis.gsi.gov.uk
Name Rebecca Murrell Job Title
Division Department for Business, Innovation and Skills Phone 020 7215 6403 Fax
Mobile
Published 25 April 2012