Government and football bodies unite to tackle discrimination
Prime Minister hosts Downing Street meeting on discrimination in football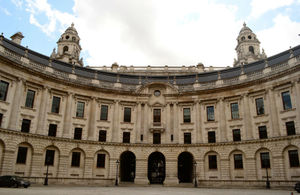 Government commits £3m to FA's St George's Park to encourage coaches from all walks of life to reach the top of the game
Football authorities announce details on a new bursary to support Black, Asian and minority ethnic coaches
Football League clubs sign up to the Sports Charter to tackle homophobia and transphobia in sport
Representatives from the football authorities, former players and campaign groups came together today at 10 Downing Street for a meeting hosted by the Prime Minister to discuss the issue of discrimination in football.
The discussion focused on progress achieved to date, the challenges ahead and how the Government can support the football authorities and campaign groups to send a clear message that any form of discrimination will not be tolerated in the national game. The football authorities have agreed to work together on a way forward and report back to Government before the start of the next season.
Prime Minister David Cameron said:
"As our national game, football has exceptional reach into every community. So much about football reflects what makes us great as a nation, and we all want to keep it that way.
"Football has done a huge amount in recent decades to eradicate the types of racist attitudes and behaviour that sadly often blighted the game. The football authorities, leagues, clubs and campaigns like Kick It Out and Show Racism the Red Card have led the way in this respect and must be praised for their efforts. But we cannot be complacent. We must address problems which could, if left unchecked, threaten to undo much of the hard work that has been done.
"Football must do more to be inclusive, in order that the beautiful game is truly open to all players, managers, coaches and supporters. Today's announcements mark a further step towards this goal. We will continue to work in partnership to confront discrimination within the sport."
During the meeting Culture Secretary Jeremy Hunt announced that the Government is contributing £3 million to the Football Association's National Coaching Centre, St George's Park. This facility will be used to help increase the number of qualified coaches in the country, which along with other specific initiatives, will encourage more people from Black and Minority Ethnic (BME) backgrounds to gain the necessary credentials for coaching and managerial positions at the top of the game. Set to open later this year, St George's Park in Burton will become the base for English football to develop coaches, players, administrators and officials.
Alongside this funding, the football authorities have also revealed details of a new bursary scheme open to Black, Asian and minority ethnic candidates who have a minimum of the Level Two coaching qualification. This scheme will assist with the costs involved in obtaining the top Uefa levels of coaching and provide them with support and mentoring opportunities at Premier League and Football League clubs. 
Jeremy Hunt said:
"We've made significant progress over the last two decades in tackling discrimination in football and this is something we should be proud of. But we mustn't become complacent. It would be great to see more black and ethnic minority coaches and managers working in the game and this is something we want to work on achieving with the football authorities."
 
David Bernstein, Chairman of the Football Association said:
"The Football Association continues to play a lead role in tackling discrimination in football. I firmly believe in widening participation and diversity within the game at all levels. The FA is determined to provide an inclusive football experience for anyone who wishes to play, coach, officiate or support English football. An experience that is reflective of our diverse communities, safe for all and free from abuse and discrimination. Just this week, a major conference was held at Wembley to raise awareness of the issues surrounding homophobia and transphobia. While we have come a very long way, it is clear we all have work to do.
"I thank the Government for the strong support of St. George's Park. When it opens later this year, it will provide an inspirational boost to our development work across all communities. The FA remains firmly committed to ensuring football is for everyone and that prejudice has no place."
Nic Coward, Premier League General Secretary said:
"The Premier League and Clubs are committed to raising standards both on and off the pitch.  A huge amount of work has been done to ensure everyone feels welcome, and abuse is dealt with. Clubs, the players and managers, have worked to raise awareness and change attitudes, and to remove discrimination. Most recently the Get On With The Game initiative has made a positive difference, and stewarding has been reviewed to make sure today's challenges are being met.
"However, as recent events have also reminded us, there is no room for complacency and we can always do more.  Arrests in football are at their lowest since records began, and we are determined to use all means to educate, prevent and deter, and to use sanctions available to us. We look forward to working with the authorities so that any offenders know abuse will not be tolerated, and acted on."
The Premier League is also to work closely with the Police e-crime units to improve the way online racist and grossly offensive behaviour is identified and dealt with. This will build on the work already achieved and raise awareness of the Premier League's Get On With the Game initiative that promotes a positive atmosphere at matches.
The Football League chairman Greg Clarke also announced that he is to sign the Government's Sports Charter to tackle homophobia and transphobia in sport on behalf of the 72 league clubs that make up the Championship, League 1 and League 2 divisions. The Football League join the 20 Premier League Clubs that signed up earlier this month to unite everyone who loves sport behind a pledge to reject homophobia and transphobia abuse both in the stands and on the field.
Greg Clarke, Chairman of the Football League said: 
"Football League Clubs are at the heart of local communities throughout the country and, together, we are committed to tackling all forms of discrimination, head on.  Everybody should be able to play, watch and enjoy sport regardless of their background and we will continue to play our part in promoting equality and diversity in English and Welsh football.  To this end, Football League clubs from all three divisions have authorised me to sign the Government's Charter tackling homophobia and transphobia in sport on their behalf. "
Notes to Editors
St George's Park will become a sporting destination of choice for coaches, players, administrators and officials alike from English football. St. George's Park will be a genuine haven of learning, training and self-improvement. It will be the practical and spiritual home of FA Learning, the educational arm of The FA. It will benefit the component parts of English football, from basic educational needs through to the elite game. It will offer an inspirational and inclusive learning environment. Football teams of all levels will also be able to hold residential training camps using all the facilities at St. George's Park including the outdoor pitches, the multi-sport indoor facility, and the state-of-the-art sports medicine, rehabilitation and performance training centre.
Press Enquiries: 020 7211 2210
Out of hours telephone pager no: 07699 751153
Public Enquiries: 020 7211 6000
Published 22 February 2012