News story
Government and Executive showcase NI investment opportunities
Theresa Villiers and Arlene Foster tell senior diplomats why their countries should invest in Northern Ireland.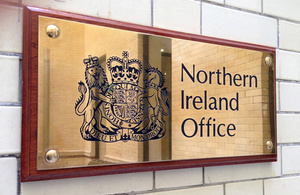 The Secretary of State and the NI Minister for Enterprise, Trade and Investment today welcomed Ambassadors and senior diplomats from 16 countries and regions to a Northern Ireland investment seminar at Lancaster House in London.
The seminar follows October's investment conference at Titanic Belfast which the Prime Minister attended, and is aimed at increasing trade with each country and encouraging investment into Northern Ireland.
The Secretary of State, Theresa Villiers said:
I am delighted to be co-chairing this seminar with Arlene Foster. It is yet another example of how the Government and the Executive are working together to promote Northern Ireland as an exciting place to invest and grow a business, and as a great place to live, work and visit.
We share the key goal of underpinning political stability with economic prosperity, and ensuring that Northern Ireland is equipped to compete in the global race. And I am pleased to say that, like the rest of the UK, the economy in Northern Ireland is beginning to turn the corner.
Northern Ireland is already one of the most successful parts of the UK for attracting foreign investment, thanks to its highly competitive cost base, excellent transport links and top class telecoms infrastructure. But Northern Ireland also has an asset which is even more valuable - its people. It's not just our highly skilled and dedicated work force, it's the climate of warmth and hospitality that makes Northern Ireland - in the words of the Prime Minister – "a very special part of the United Kingdom".
Enterprise, Trade and Investment Minister Arlene Foster said:
Northern Ireland is a small place, but we think big, we aim high and we achieve. That is why I am passionate about what Northern Ireland has to offer as a compelling strategic location for investors.
The Northern Ireland Executive collectively supports a business environment that is attractive to inward investors and encourages locally owned companies to grow. We have many of the building blocks in place to take our economy to a higher level. As well as building on our traditional strengths of engineering excellence and our long history of innovation, we are also developing new skill sets to meet the needs of the fast changing hi-tech world.
In recent years we have attracted many high calibre investors and the quality of our offering is emphasised by the fact 75% of investors choose to reinvest in their Northern Ireland operations. Events such as this provide opportunities to highlight what we have to offer in the hope that it will not only encourage people to visit Northern Ireland but to invest here.
The ministers addressed the audience on how Northern Ireland has been transformed over the last 20 years, and with over 800 foreign investors is now second only to London as the top UK destination for inward investment.
Invest NI Chief Executive Alastair Hamilton also gave a presentation showcasing Northern Ireland as a great place to do business. In the last three years alone, 8,000 jobs have been created by foreign investment.
Following today's seminar Theresa Villiers and Arlene Foster will formally invite each country's Ambassador to lead a business delegation to Northern Ireland during the course of next year.
These individually tailored visits will showcase the business opportunities that Northern Ireland can offer each country and will include a dinner at Hillsborough Castle hosted by the UK and NI ministers.
Key facts - Reasons to invest in Northern Ireland:
Talented & Skilled People
highly educated, skilled English-speaking workforce
strong work ethic and low staff turnover rates
one of the youngest populations in Europe (55% under 40)
4,000 business and technology graduates every year
Competitive operating costs
highly competitive operating costs; significantly lower than the rest of the UK and Europe
prime office rents among the lowest in the world
Sector/cluster Strengths
knowledge-based sectors account for the large majority of all foreign direct investment into Northern Ireland
software and financial services are among the sectors experiencing the fastest growth
Belfast is the top destination globally for financial technology investment
world-class companies in the aerospace, engineering and life sciences sectors
Excellent University/Business Linkages
globally-recognised research centres at both Queen's and University of Ulster
strong track record in commercialisation of research and in spinning-off successful business ventures
close working relationships between government, industry and academia to ensure pipeline of skilled workforce
Generous financial asistance and support
highly attractive and competitive package of financial incentives
recruitment and training, research and development support tailored to each company's needs
dedicated development agency providing ongoing partnership and support to investors prior, during and after initial investment, supporting future growth and expansion
Investor success
nearly 75% of new investors have already reinvested in Northern Ireland or are gearing-up to invest more
key investors include Fujitsu; Bombardier Aerospace; Citi; HBO; the Allstate Corporation; CME Group, NYSE Euronext and Allen & Overy LLP
Countries & regions attending the seminar:
Australia
Belgium
Chile
Estonia
Flanders Region
Kurdistan Region
Latvia
Luxembourg
Malaysia
Netherlands
Norway
Saudi Arabia
Spain
Sweden
Turkey
United Arab Emirates
Published 7 November 2013