News story
Government and business boost UK workforce with £165 million co-investment in skills
They are the first round of winners taking part in the Employer Ownership Pilot (EOP). They will receive a share of £67 million and will more…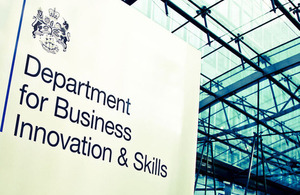 They are the first round of winners taking part in the Employer Ownership Pilot (EOP). They will receive a share of £67 million and will more than match the funding by investing a combined total of £98 million.
Included within the round one projects are radical proposals from Siemens, Arla Foods UK and BAE Systems to train employees not just within their own company but also within their supply chains.
Others include Manchester Airport's proposal to create an academy for school leavers, offering 1-2-1 coaching, employability skills, work experience and qualifications. Nissan is addressing skills shortages in the automotive industry by designing 14 training programmes for over 3,000 staff, within the company and at local suppliers.
The announcement was made as part of the Government's Industrial Strategy.
Launching the strategy at Imperial College, Business Secretary Vince Cable said:
"This fund underlines our commitment to strengthening the economy and making sure that the UK workforce has the skills that businesses need.
"On a recent fact-finding trip to Germany I saw first hand how forward-thinking companies were enjoying the benefits of training their supply chain companies, so I am particularly excited that we have received a number of bids to do the same in the UK.
"The breadth and scope of these projects show how central skills are to our long-term competitiveness, across all sectors and in all corners of the country. I am delighted that these employers have taken this challenge."
Skills Minister Matthew Hancock said:
"Britain must have the skills Britain's employers need.
"By giving businesses the chance to shape and set their own training agenda, we're giving them the power to enrich their workforce with the skills needed for their future success."
As well as supporting businesses and giving them the confidence to invest and grow, the Employer Ownership Pilot will create life changing opportunities for thousands of young people. The first round of co-investment is expected to generate:
11,000 apprenticeships, including 4400 for 16-18 year olds

27,000 full time equivalent non-apprenticeship vocational training opportunities

49,000 other learning or training opportunities, including work experience and work placements
Charlie Mayfield, Chairman of the UK Commission for Employment and Skills, which is overseeing the scheme, said:
"We want to encourage employers to take the lead in designing, developing and delivering the training and employment solutions they need.
"I am delighted that so many employers submitted high quality bids to do just that, and I look forward to us supporting more of these in future rounds of the scheme."
Toby Peyton-Jones, Director of Human Resources at Siemens plc said:
"Siemens is delighted to be part of this pioneering scheme which makes employers the authors for defining and developing the skills they need.
"We are a major employer in the UK and we spend £2.3bn on our UK supply chain annually securing 25,000 jobs. This pilot will help us pass on important skills to our UK suppliers and further strengthen our UK operations."
George Ritchie, Senior Vice President Regional HR, Sembcorp Industries, said:
"We are delighted to have been chosen as one of the employer-led projects given the opportunity to design our own innovative framework reflecting the way our industrial partners want their apprentice training delivered.
"We are proud to work alongside our nominated delivery provider the National Skills Academy for the Process Industries and project partners including the North East Process Industry Cluster (NEPIC), Tees Valley Unlimited as our LEP, the National Apprenticeship Service and others, plus a wide range of partner process industry companies, most of whom are members of NEPIC."
The Employer Ownership Pilot will give businesses access to up to a total of £250 million over two years, with more successful bidders being announced in October, and a further bidding round to be launched in the autumn
Notes to editors
First round successful bidders that can currently be announced are Agilisys, AJ Woods Engineering Ltd, AkzoNobel, Arla Foods UK, BAE Systems Plc, Berforts Plc with British Printing Industries Federation (BPIF), British Glass Manufacturers Confederation, Cascade Drinks/Moles Brewery Ltd, Academy of Music & Sound Ltd, Denne Construction Ltd, DENSO Manufacturing UK Ltd, Fabricom Oil, Gas and Power Ltd, Fix Auto Dagenham, GE Aviation Plc, Goodwin International Ltd, Heart of England Attractions Ltd, Jacobs E & C Ltd, Manchester Airport Ltd, Nissan Motor Manufacturing (UK) Ltd, Plaisterers Hall Limited, PricewaterhouseCoopers LLP, Rolls Royce Plc on behalf of LEEAC, Sembcorp Utilities UK Ltd, Siemens Plc, Spiral Construction Ltd, WT Johnson and Sons Ltd, Timpson Group Ltd, Whitbread Group Plc, Langdon Industries Ltd, Doosan Power Systems Ltd, Midlands Co-operative Society, Energie Group and Construction Employers (a consortium bid including Balfour Beatty, Costain, Galliford Try, Kier Group Lend Lease, Lovell, Vinci, Wates Group and Willmott Dixon).

The Employer Ownership Pilot, launched on _7 February 2012 _is jointly funded by the Department for Business, Innovation and Skills and the Department for Education and routes public investment directly to employers so they can design and deliver more flexible training packages. Employers are expected to provide co-funding. The prospectus http://www.ukces.org.uk/ourwork/employer-ownership/eo-round-one/round-1-prospectus sets out the rationale for the scheme in more detail. The vision of greater employer ownership has been championed by the UK Commission for Employment and Skills (UKCES) - a non-departmental public body that provides strategic leadership on skills and employment issues.

The first round of the Employer Ownership Pilot created significant interest from employers and skills stakeholders with 269 applications received for the first round. All applications underwent a robust appraisal process based on the published criteria. The portfolio of supported bids is well balanced across sectors, regions and employer size. It helps support the Government's wider Industrial Strategy vision with a range bids from the nuclear, construction and automotive sectors, amongst others. It should be noted that all bids remain subject to due diligence and contractual checks, in line with usual practice.

Many bids, including from Siemens, BAE Systems and Sembcorp, draw supply chain and other sector businesses into a joined up skills approach. Others show outstanding innovation, such as that led by PwC which tests a model for helping SMEs in the sector to upskill, with a greater lead from the sector and less government intervention, as well as offering support to larger organisations to grow their talent base. A project involving Network Rail, BAE Systems, Rolls-Royce and potentially other members of the Large Engineering Employers Apprenticeship Consortium (LEEAC) addresses the increasing demand for engineering skills, while also aiming to double the number of female apprentices. A consortium based around Manchester Airport tests how employer investment in skills can raise aspirations and support growth.

Many bids involve a collaborative approach, with successful bidders working alongside FE Colleges, National Skills Academies, private training providers, Trade Unions and many others. A number of the bids having a strong emphasis on those aged 16-24.

Further successful applicants will be announced in October with details of round two of the pilot to be announced in the autumn. Round two will test further the employer ownership model: to build on the lessons and insights from round one, and provide a further opportunity for businesses to demonstrate how greater employer ownership of the vocational skills agenda can lead to increased productivity and growth.

The Government's economic policy objective is to achieve 'strong, sustainable and balanced growth that is more evenly shared across the country and between industries.' It set four ambitions in the 'Plan for Growth' (PDF 1.7MB), published at Budget 2011:
To create the most competitive tax system in the G20

To make the UK the best place in Europe to start, finance and grow a business

To encourage investment and exports as a route to a more balanced economy

To create a more educated workforce that is the most flexible in Europe.
Work is underway across Government to achieve these ambitions, including progress on more than 250 measures as part of the Growth Review. Developing an Industrial Strategy gives new impetus to this work by providing businesses, investors and the public with more clarity about the long-term direction in which the Government wants the economy to travel.
BIS's online newsroom contains the latest press notices and speeches, as well as video and images for download. It also features an up to date list of BIS press office contacts. See http://www.bis.gov.uk/newsroom for more information.
Notes to Editors
Contact Information
Name BIS Press Office Job Title
Division Department for Business, Innovation & Skills Phone
Fax
Mobile
Email bispress.releases@bis.gsi.gov.uk
Name Victoria Heath Job Title Ms Division Department for Business, Innovation & Skills Phone 020 7215 5950 Fax
Mobile
Published 11 September 2012