News story
Government and aerospace come together to deliver growth programme
The group will be jointly chaired by Mark Prisk, Minister of State for Business and Enterprise, and Marcus Bryson, Chief Executive…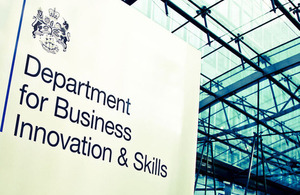 | | | |
| --- | --- | --- |
| The group will be jointly chaired by Mark Prisk, Minister of State for Business and Enterprise, and Marcus Bryson, Chief Executive of GKN Aerospace and Chair of UK aerospace trade association A | D | S's Civil Air Transport Board. |
Business Minister Mark Prisk said:
"Aerospace is a UK success that we should be very proud of. We are number one in Europe and number two in world with a 17% global market share.
"Aerospace companies in the UK directly employ around 100,000 highly skilled individuals and support many more jobs across the wider UK economy. Salaries in the sector are 36% above the manufacturing average.
"This group will bring aerospace and government together so we can take action to address barriers to growth, boost exports and grow the number of highly skilled jobs available in the UK."
Chief Executive of GKN Marcus Bryson said:
"If the UK is able to maintain its current global market share then aerospace will generate £352 billion over the next 20 years.
"However, we cannot take this for granted, as other nations are also seeking to expand their own aerospace industries.
"There are also fantastic opportunities for growth and the industry is determined to seize these.
"In doing so we will unlock the potential to develop more environmentally friendly aircraft. Our partnership with government is crucial to achieving this success and we welcome the commitment of BIS to this work."
The Aerospace Growth Partnership will see government and industry working together to address the issues that affect UK competitiveness in the sector.
Its work will focus on ensuring that the UK remains an extremely attractive location for aerospace companies to carry out work both on current and future generations of civil aircraft.
The Aerospace Growth Partnership has been established to address the strategic issues identified by the Aerospace Business Leaders Group, chaired by Vince Cable, which met in December.
Notes to Editors:
| | | |
| --- | --- | --- |
| The Aerospace Growth Partnership comprises senior business representation across the UK aerospace supply chain: EADS, Airbus, Bombardier Aerospace (Shorts), Rolls-Royce, AgustaWestland, BAE Systems, GKN, Spirit, Goodrich, Messier-Dowty, GE Aviation, A | D | S (the national trade association), and regional aerospace trade associations along with senior BIS officials. |

The Aerospace Business Leaders group comprises CEO level representation of the leading UK aerospace companies (Airbus, Rolls-Royce, Bombardier Aerospace (Shorts), GKN, Finmeccanica (parent of AgustaWestland), ADS and senior BIS officials.

The UK Aerospace industry has an annual turnover of £22.2bn and some £32.2bn of orders were placed in 2009.

Approximately 70% of turnover is exported: £14bn in 2007; and the sector provides access to growing markets such as China.

Some 36% of employees have a degree or equivalent; with 13% working in research & development (R&D).

It is an R&D-intensive and high-technology industry with technology spin-offs to the rest of the economy (e.g. radar, composite materials, jet engines).

An aircraft today produces 70% less CO2 than its equivalent 50 years ago and 50% less noise than 20 years ago.

| | | | | |
| --- | --- | --- | --- | --- |
| A | D | S is the trade organisation advancing UK Aerospace, Defence, Security and Space industries with Farnborough International Limited as a wholly-owned subsidiary. A | D | S also encompasses the British Aviation Group (BAG). It was formed from the merger of the Association of Police and Public Security Suppliers (APPSS), the Defence Manufacturers Association (DMA) and the Society of British Aerospace Companies (SBAC) in October 2009. For more information see www.adsgroup.org.uk. |
9. For more information please contact:
**
Matthew Knowles, Director, Public Relations, A|D|S
Tel: +44 (0) 20 7091 4538 / Mobile: +44 (0) 7595 863 749
E-mail: matthew.knowles@adsgroup.org.uk
**
Samuel Jones, Communications Manager, A|D|S
Tel: +44 (0) 20 7091 4521 / Mobile: +44 (0) 7827 309 732
E-mail: samuel.jones@adsgroup.org.uk
A|D|S is also on Twitter at www.twitter.com/ADSgroupUK.
BIS' online newsroom contains the latest press notices, speeches, as well as video and images for download. It also features an up to date list of BIS press office contacts. See [http://www.bis.gov.uk/newsroom](http://www.bis.gov.uk/newsroom) for more information.
Notes to Editors
Contact Information
Name BIS Press Office Job Title
Division COI Phone
Fax
Mobile
Email NDS.BIS@coi.gsi.gov.uk
Name Ashley Rogers. Job Title
Division Department for Business, Innovation and Skills Phone 020 7215 5971 Fax
Mobile
Published 9 March 2011