Press release
Government action to take on town hall "bin blight"
New guidance to tackle unsightly bin clutter and ugly wheelie bins.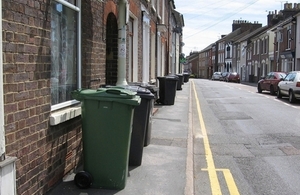 The daily obstacle course of wheelie bins and recycling boxes clogging up front yards, gardens and driveways can end with new planning and housing guidance, Local Government Secretary Eric Pickles announced today. He reinforced government's commitment to tackle "bin blight" - the neighbourhood scourge of middle England.
The government is to publish suggested new guidance - proposals on both housing design standards and practice guidance on planning - which will require suitable provision to be made for proper waste storage in new homes. This will help avoid bins dominating residential streets or contributing to increased odour and roadside litter, and problems with rats, mice, flies and urban foxes.
The government is now looking for new homes to "design out" bin blight, so that bins are not seen from the front of the street. This could include covert storage units for residents' bins, or simply ensuring there is space for bins to be stored in backyards so they are only taken out when necessary on bin collection day.
These actions build on Eric Pickles' moves to abolish bin taxes, stop unfair bin fines being issued on family homes, and scrap Whitehall directives demanding fortnightly bin collections. The government's £250 million Weekly Collection Support Scheme has protected a weekly bin collection for 6 million families and supported 41 innovative reward schemes to show how families can increase recycling without facing punitive fines and taxes.
Local Government Secretary, Eric Pickles, said:
This government is standing up for hard-working people and getting rid of barmy bin policies which made families' lives hell. I want to make sure families get a proper rubbish and recycling collection service for the large amount of money they have to pay in Council Tax.

For years badly-placed wheelie bins and the proliferation of multiple bins have created a blot on the landscape. In streets up and down the country, ugly bin clutter has ruined the street scene and the look of people's homes and gardens.

By ensuring that developers create appropriate waste storage areas when designing new homes, we can tackle the ghastly gauntlet of bin blighted streets and driveways.
Picture under creative commons: credit stuartajc
Further information
Brand new proposed planning practice guidance on good design to be published shortly will tell house builders and town hall planners:
Unsightly bins left lying around the neighbourhood can spoil the look of an area. Carefully planned bin storage is, therefore, important. Each dwelling should have enough storage space for all the different types of bin used in the local authority area (for example landfill, recycling, food waste).
A new consultation on housing standards also to be published shortly will say:
The government places a high degree of importance on ensuring that suitable provision is made for waste storage in new homes, particularly to avoid bins dominating street frontages or contributing to increased levels of anti-social nuisance such as odour or litter. This is sometimes referred to as "bin blight", and the government intends to bring this to an end. These problems have come to the fore in some areas due perhaps to inadequate thought being given to the visual design or provision of bin storage space or its location in different dwelling types in previous decades.
The paper will then outline how technical building regulations could be updated to tackle bin blight.
Published 16 August 2013