Government action securing Council Tax freeze for residents
Eric Pickles praises 'can freeze' councils who are saying yes to the government's offer to help keep local Council Tax payers' cost of living down at a critical time.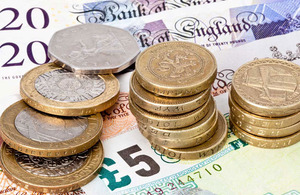 The nation faces an unprecedented financial situation and every part of the public sector, including local government, which accounts for a quarter of all public expenditure, has a part to play in cutting the deficit.
New figures show over 330 councils in England have so far indicated that they will be taking up the government offer to fund a Council Tax freeze in April through its £650 million fund. This gives authorities who do not put up their Council Tax a grant worth 2.5% of their Council Tax income. The freeze means local taxpayers living in an average Band D home in England could save up to £70.
Local Government Secretary Eric Pickles said:
"I welcome the news that almost every council has said it wants to take part in the government's £650 million Council Tax freeze initiative.
"This shows that local authorities can freeze Council Tax for residents helping them manage their monthly outgoings whilst working hard to protect frontline services. Tackling the nation's deficit is the governments biggest priority but we have made this money available to help hard working families and pensioners tired of seeing their Council Tax bill go up."
A fair and progressive funding settlement for councils that protects front-line services and shields the most vulnerable communities with significant social challenges was confirmed last month. For example, residents in Hackney will receive £1,043 per head and those in Wokingham will receive £125 per head.
£29.4 billion of council grant has been fairly distributed between different parts of the country - north and south, rural and urban, metropolitan and shire. As a result councils will only see an average 4.4% reduction in revenue spending power and none will now face more than an 8.8% fall.
Local authorities have already been given full control over £7 billion of funding, all non-schools ring fenced grants have been removed, councils and the NHS are being brought closer together and the bureaucratic burdens associated with inspection and targets have been removed.
Stopping a 5% Council Tax rise (the capping threshold in recent years) would therefore save £71 in 2011 to 2012. Should an average 2.5% rise have occurred the saving would have been £35.
Published 28 February 2011