News story
Government £50 million boost for football's grassroots
Investment will improve nation's sport facility stock and give more young people quality coaching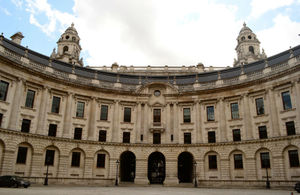 Grassroots football received a £50 million boost from Government today with funding to build state-of-the-art facilities and develop the next generation of England football talent.
Chancellor of the Exchequer George Osborne announced the deal as he opened Manchester City's new football academy.
The funding will back the Football Association's plan to improve grassroots facilities across the country and will help create 150 multi-sport hubs across 30 cities.
£8 million a year will go into the facilities, helping to build over 400 new 3G pitches, while £2 million a year will go into coaching.
It will support 25 new 'coach educators' that can triple the number of high level coaches nationally and a bursary scheme that will also help more women and people from a BAME background qualify as coaches.
The government's investment will be match-funded by the FA alongside further contributions from other partners such as the Premier League and Football League clubs and local authorities with a shared ambition for over £200 million of total funding.
Secretary of State for Culture, Media and Sport Sajid Javid said:
Investing in building state-of-the-art 3G pitches up and down the country is a real boost to grassroots sport. These all-weather facilities will not only mean that people can play football all-year round but are great for talent development due to the true, flat playing surface. If we strengthen the game at the grassroots and increase the number of coaches, it will only help the England team in future World Cups and European Championships.
Football Association Chairman, Greg Dyke, said:
I am delighted that the Government has shown its support for the England Commission's drive to significantly improve grassroots football facilities and coaching. The best quality coaches working on the best quality facilities will really help us to deliver a transformation in player and coach development across English football. This improvement is vital to the nation's shared ambition of future England team success. I would like to thank the Chancellor and the Secretary of State for their personal backing, the DCMS and Sport England for their continued support, and all our other key partners including Local Authorities, the Premier League and Football League.

Significantly improving our grassroots football infrastructure is vital. Everyone playing the game at every level deserves the best opportunity to reach their potential. Today's announcement will take us a long way forward to achieving our goals.
Premier League Chief Executive, Richard Scudamore, said:
The Premier League has a longstanding commitment to investing in facilities for the grassroots game, using a significant amount of the income we earn from selling our broadcast rights. Building on that commitment, we will work closely with the Government, the FA and our Clubs to make these new local partnerships a success. Good coaching on good pitches is the foundation of good football, whether it's people playing for fun or talented youngsters developing their skills for the future and so the whole of football will benefit.
Published 8 December 2014