News story
Good luck Tim!
Theresa Villiers wishes UK astronaut Tim Peake well on his mission to space.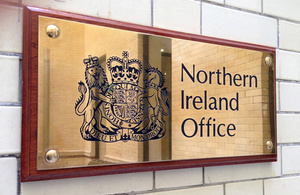 The Secretary of State for Northern Ireland has joined the Prime Minister, Business Minister and many others in wishing UK astronaut Tim Peake good luck on his historic six month mission for the European Space Agency to the International Space Station.
The UK space industry contributes £11.8 billion to the UK economy, and offers exciting career opportunities for engineers, researchers, software designers and many more.
Secretary of State for Northern Ireland Theresa Villiers said:
Tim's Principia mission to the International Space Station is a historic moment for the United Kingdom and a continuation of our great tradition of exploration and innovation.
Northern Ireland's Space Industry is flourishing, and promises to continue to benefit from the UK Government's wider commitment to space exploration and investment. Northern Ireland firms and universities are at the forefront of innovative research being carried out in satellite communications, positioning and observations of our earth.
I hope Tim will inspire a new generation of children and young people in Northern Ireland and across the country to take an interest in science and technology.
Good luck Tim!
Published 15 December 2015