World news story
Good governance workshop funded by FCO
Senior politicians and officials of the Turks and Caicos Islands Government are taking part in a two day conference on good governance.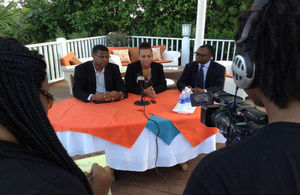 The team of Acting Governor, Premier, Ministers and Permanent Secretaries will be led by the Dr. Carlton Davis (former Cabinet Secretary of Jamaica) and Adeyemi Ogunmefun, Secretariat of the Commonwealth from 26-28 September 2013.
The event has been fully funded by the UK Foreign and Commonwealth Office and the Commonwealth Secretariat, and takes place in the solitude of Parrot Cay, a private resort island in the TCI.
It is intended to build on the extensive public sector reform implemented in recent times in the TCI, which has seen the development of a code of conduct for public persons, including ministers and permanent secretaries.
The workshop has the following objectives:
Ministers and Permanent Secretaries will have a clear outline of their working expectations from each other

Permanent Secretaries will be clear on priorities of Ministers

Ministers will be clear on the roles and responsibilities of Permanent Secretaries

Ministers and Permanent Secretaries would have outlined a pathway to developing and implementing key outputs for Ministries
Sessions will cover topics such as:
Business of Cabinet

Roles and responsibilities of Permanent Secretaries

Roles and responsibilities of Cabinet Ministers

Effective interface between Minister's and PS's

Value, Ethics and Integrity
Having attended the Commonwealth Secretariat Cabinet Secretary and Heads of Public Service Meeting earlier this year in St. Lucia, I am delighted that the Commonwealth has accepted our request to facilitate this workshop here in TCI, similar to workshops previously held in the British Virgin Islands and other UK Overseas Territories," said Acting Governor Williams.

The topics are relevant and will assist TCI senior leaders in not only being able to better understand their responsibilities, but also in helping to facilitate better working relationships between all parties involved which will result in positive results for the entire country.
The Premier, Dr. Hon. Rufus Ewing commented:
This retreat is a great opportunity for the Cabinet and Permanent Secretaries to work on building relationship between the executive arm and the administrative arms of Government. The event will also create the synergy and cohesion as a joined-up Government as together we prioritize our agenda for the next year and discuss the possible solutions for the improvement economical and social challenges facing the people of the Turks & Caicos Islands.
Published 26 September 2013