News story
Going for growth
New campaign launches to support and raise the profile of mid-sized businesses and help them grow into tomorrow's success stories.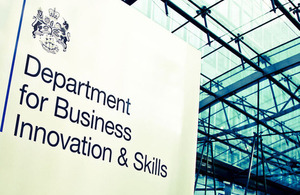 'Mid-sized businesses' (MSBs) describes the 10,000 or so firms in the UK that do not fall into the category of either SMEs or the biggest firms.
They represent just 0.2% of all UK firms - yet account for around one fifth of private sector employment and turnover.
They are a diverse population, cover a range of sectors and regions and are often well-established, successful companies.
The publication of the government's MSB Growth Review sees the start of a joint campaign to support the UK's MSBs.
Business and Enterprise Minister Mark Prisk said:
"Mid-sized businesses are a powerful force in their local economies and nationally, employing one in five private sector workers. MSBs have immense potential and we want to help them to be recognised for what they do and to raise their sights to the opportunities that exist.
"So I'm very pleased that the Government and organisations such as the Confederation of British Industry, Institute of Directors, Institute for Family Business and others including the Daily Telegraph are working together on a series of practical measures to promote the support available for MSBs."
Mid-sized firms to spearhead UK export drive
The first international trade mission specifically tailored for these companies will take place in April.
A delegation of MSBs will accompany Trade and Investment Minister Lord Green and John Cridland Director General of the CBI to Turkey in April - the first-ever UK Trade and Investment (UKTI) trade visit to focus exclusively on the opportunities for these businesses in an emerging market.
Other measures being taken by Government, business and representative groups include:
Providing tailored support to MSBs to target new export markets, through an additional £10m funding for UKTI.
Working with Local Enterprise Partnerships (LEPs) to help MSBs develop.
Government is working with large businesses, including Microsoft, Centrica and Diageo, to support and strengthen their supply chains of which MSBs are often a vital link.
The Institute for Family Business will provide countrywide seminars dedicated to MSB, including on entrepreneurialism, succession planning and professionalising the board.
The campaign follows actions for MSBs in the Growth Review, announced in the Autumn Statement:
A package of credit easing measures to protect the flow of credit to smaller and mid-sized businesses.
£1 billion through a Business Finance Partnership, which will invest in smaller and mid-sized businesses in the UK through non-bank channels.
Links
Published 9 January 2012