Press release
Gloucestershire Old Spots: Crackling good protected pork
Gloucester Old Spots, the 42nd British product to be added to the list of legally-protected names.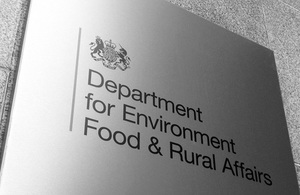 Environment Secretary Caroline Spelman today welcomed producers of Gloucestershire Old Spots pork - also known as Gloucester Old Spots - to the growing list of British specially protected foods and drink that have gained specially protected status throughout Europe.
Gloucester Old Spots is the second product to gain accreditation under the Traditional Speciality Guaranteed (TSG) classification of Protected Food Names, after Traditional Farm fresh Turkey achieved protection ten years ago.  It is the latest in a series of 42 British products such as Melton Mowbray pork pies and Cornish clotted cream to win European protection, and joins the ranks of Champagne and Parma Ham in the register of Europe's protected food and drink names.
Speaking at the Three Counties Show in Malvern, Caroline Spelman said:
"It's great to be here to celebrate the unique quality of another one of our delicious traditional foods.  Gloucester Old Spots pork thoroughly deserves the status and protection offered to it throughout Europe.
"Gloucester Old Spots is the 42nd product to gain protected status but I know that there must be many other types of food and drink out there which could apply for this special recognition and I'd like to encourage them to come forward - our great food and drink should be celebrated."
Gloucester Old Spot pork has to come from pedigree pigs and the pork is particularly special because the nature of the breed and the way they are farmed mean that it scores higher for texture (tenderness) and juiciness than conventionally produced pork.
As the 42nd British product to be added to the list of legally-protected names, Gloucester Old Spots joins the likes of West Country Farmhouse Cheddar, Yorkshire Forced Rhubarb and Cornish Sardines.
Dave Overton, President of the Gloucestershire Old Spots Pig Breeders' Club said:
"This has come about after a great deal of work and effort both by ourselves and the small team at Defra.  For the Gloucestershire Old Spots breed to be the first of any species in the world to be granted TSG status throughout Europe is a significant achievement and will help us to ensure that the integrity of the special meat from these pigs is maintained and that the public can be sure of a real treat when they purchase it in future.
"Numbers of the breed have increased significantly in recent years on the back of its special eating qualities and it is important that the public have this protection to ensure they are not duped by unscrupulous traders passing off other meats as GOS produce."
The success of the application is a result of the close co-operation between Defra and the Gloucestershire Old Spots Pig Breeders' Club.
Notes
Further details about the Gloucestershire Old Spot can be found at Defra's protected food names web pages.
Defra work closely with ADAS, (the delivery body responsible for dealing with the administration of the scheme) and a wide range of other organisation to raise awareness of the Protected Food Name (PFN) scheme and encourage more applications.
The EU Protected Food Name scheme came into force in 1993.  It provides for a system for the protection of food names on a geographical or traditional recipe basis.   The designations are Protected Designation of Origin (PDO), Protected Geographical Indication (PGI) and Traditional Speciality Guaranteed (TSG). The scheme highlights regional and traditional foods whose authenticity and origin can be guaranteed.  Under this system a named food or drink registered at a European level will be given legal protection against imitation throughout the EU.
Further information about the EU scheme, together with application forms and guidance notes can be obtained from ADAS on 020 7238 6678, or email: irene.bocchetta@adas.co.uk.
Details of the scheme, including a full list of UK (and other Member States') products covered, can be found on the EU website: http://ec.europa.eu/agriculture/quality/
Forty-two British products now enjoy protection under the scheme including Arbroath Smokies, Cornish Clotted Cream, Melton Mowbray Pork Pies and Welsh Lamb.  There are almost 40 other applications currently in the pipeline to protect various UK products.
Published 18 June 2010