World news story
Global Summit to End Sexual Violence in Conflict
Sexual violence in conflict destroys lives and traps survivors in poverty and insecurity.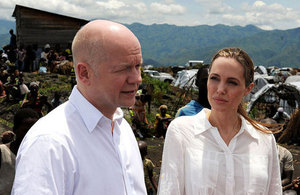 Foreign Secretary William Hague will co-chair the summit with Angelina Jolie, Special Envoy for the UN High Commissioner for Refugees.
All the governments that have endorsed the UN Declaration of Commitment to End Sexual Violence in Conflict will be invited, as will legal, military and judicial practitioners and representatives from multilateral organisations, NGOs and civil society. It will be the biggest global meeting on this issue ever convened.
The objective of the summit is to create a sense of irreversible movement towards ending the use of rape and sexual violence in conflict and to deliver a set of practical agreements that bring together and focus the efforts of conflict and post conflict-affected countries, donors, the UN and other multilateral organizations, NGOs and civil society in an ambitious and cohesive programme for change. The summit will also identify specific actions by the international community in the four areas where greater progress is necessary. These four areas are:
To improve investigations/documentation of sexual violence in conflict;
To provide greater support and assistance and reparation for survivors, including child survivors, of sexual violence;
To ensure sexual and gender based violence responses and the promotion of gender equality are fully integrated in all peace and security efforts, including security and justice sector reform; and
To improve international strategic co-ordination.
In addition the summit will clearly situate the issue of sexual violence in conflict within the broader Women, Peace and Security agenda and be an opportunity to make further progress in the international community's commitment to guaranteeing women's full economic, social and political rights. It will be used to launch the new International Protocol on the Investigation and Documentation of Sexual Violence in Conflict as a practical tool to help improve accountability and encourage its widespread use. In addition, Furthemore the UK hopes to secure agreement to revising military doctrine and training; improving peacekeeping training and operations; providing new support to local and grassroots organizations and human rights defenders; developing the deployment of international expertise to build national capacity; improved support for survivors, including in humanitarian contexts; and forming new partnerships to support conflict-affected countries.
Published 12 March 2014