News story
Global interest in NDA's work grows
The UK's approach to tackling its nuclear legacy continues to be of significant interest to other countries. NDA has recently hosted visiting organisations from USA, Australia and Japan.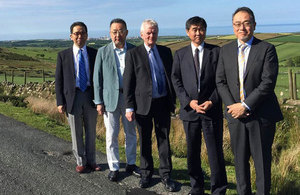 John Mathieson, NDA Head of International Relations, said:
The NDA plays a pivotal role in enabling the sharing of international good practice in decommissioning and waste management. A collaborative approach to information sharing has the potential to help organisations minimise risks to clean-up programmes. This learning influences technical developments in decommissioning, ultimately saving participating organisations time and money.
USA visit the UK to build three-way discussion with NDA and National Nuclear Laboratory (NNL)
In April, a team from the US Department of Energy's (DoE) Environmental Management Department joined NDA and colleagues from NNL to discuss future topic areas for exchanging information.
Japanese visit the UK to learn from Sellafield and Dounreay
In February, the Nuclear Damage Compensation and Decommissioning Facilitation Corporation of Japan (NDF) visited the UK following the signing of a collaboration agreement earlier in the year. On behalf of the Government of Japan, NDF now owns the majority of shares in TEPCO and is responsible for setting the strategy for the clean-up of Fukushima-Daiichi. Discussions centred on how NDA manages the development of its strategy for nuclear decommissioning. The team visited Sellafield, took part in a UK-Japan dialogue meeting and shared their new decommissioning strategy for Fukushima.
In May, the Japanese Central Research Institute for the Electric Power Industry (CRIEPI) and the Federation of Electric Power Companies of Japan (FEPC) visited Dounreay. They also held discussions in London on UK and Japanese experiences of working with stakeholders interested in nuclear decommissioning.
Australians visit the UK to learn from Sellafield, INS and RWM
The South Australian Government is looking into the potential benefits and drawbacks of expanding their nuclear industry. Currently Australia mines uranium and has the world's largest known reserves. The Australian Nuclear Science and Technology Organisation (ANSTO) operates a research reactor and carries out a range of research and development activities.
The Australian Royal Commission visited the UK to understand more about various areas of the fuel cycle such as new fuel manufacture, generation, reprocessing, transportation and disposal.
The Commission is due to issue a final report and recommendations next year to the South Australian Government.
Published 22 June 2015