News story
Global Entrepreneurship Week: Ministers recruit entrepreneur advisors during biggest ever celebration of enterprise
The biggest ever celebration of entrepreneurs kicks off today with the launch of Global Entrepreneurship Week (GEW) 2012.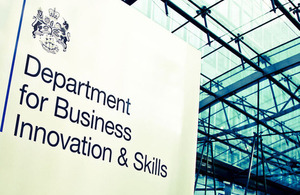 The biggest ever celebration of entrepreneurs kicks off today with the launch of Global Entrepreneurship Week (GEW) 2012. The Department for Business, Innovation and Skills (BIS) is pledging its support for small business by announcing that two entrepreneurs will be given advisory roles in government.
During the week more than 40,000 enterprise events are expected to take place in 115 countries, including more than 3,000 events across the UK.
The theme of GEW this year is 'pass it on'. The aim is to pass on practical help and support to start-ups and people who are considering getting into business.
Ministers are taking part in a number of events during the week and making the following announcements:
two entrepreneurs in residence will be recruited at BIS. They will help advise government on small business issues, making sure that the needs of entrepreneurs are properly considered by policy makers
Warwick and Aston Business Schools have been chosen to host a new £2.9 million enterprise research centre. Its work will help improve understanding of the drivers and barriers to growth that affect our small and medium sized enterprises (SMEs)
the launch of a new £1.1 million Entrepreneurs and Education Programme that will work with academics, researchers and students to promote enterprise, self-employment and help commercialise innovations
a push to encourage businesses to make better use of the Seed Enterprise Investment Scheme (SEIS) that provides generous tax benefits to SME investors
new access to a secure web-based portal for adult prisoners that will provide opportunities for them to learn about how they can start a business when they are released
Secretary of State for Business Vince Cable said:
"This year there were a record number of 4.8 million SMEs in the UK. That is welcome news, and we need to continue encouraging entrepreneurial spirit amongst people of all ages so they can turn their ideas into businesses.
"We have a great entrepreneurial knowledge base in our universities that we have to use to our competitive advantage. The £1.1 million investment that we are making through the Entrepreneurs and Education Programme will help us unlock this potential by giving real support to people who are looking to commercialise their innovations."
Throughout the week, Ministers will be taking part in events and meeting with entrepreneurs. Today, Business Minister Michael Fallon will be attending the official launch of the week at the Wayra incubation hub in London. Wayra is home to a number of innovative start-up businesses.
Business and Enterprise Minister Michael Fallon said:
"Global Entrepreneurship Week is about celebrating our job creators. It provides a platform to promote enterprise and showcases the fantastic opportunities for entrepreneurs that exist in the UK.
"Recruiting two entrepreneurs in residence will provide a vital link between Government and business. It will help to change the culture across Whitehall so that we really do think small first. So many decisions that are made in Government affect entrepreneurs and we need to better involve them in that process."
Other events taking place include:
the Premier League's enterprise challenge finals at the BIS conference centre on Tuesday 13 November. The challenge links Premier League football clubs with local schools to engage with students and encourage them to come up with business focussed solutions to improve the match day experience of fans. Michael Fallon and the Premier League's Chief Executive Richard Scudamore will meet the finalists at the event. The Premier League trophy will also be present
Start-Up Britain will be holding a national start-up day on Wednesday 14 November. Michael Fallon will meet young entrepreneurs looking for advice on how to start a business. Start-Up Britain's bus, which has been promoting Start-Up Loans across the country, will be visiting the British Library in London where the Minister and entrepreneur and former Pizza Express boss Luke Johnson will be on hand to offer advice
a presentation event for winners of the Queen's Awards for enterprise promotion. On Tuesday 13 November, Vince Cable will be meeting the eleven winners of this year's prize at BIS who have all been recognised for promoting enterprise through their local communities. The winners will then be going on to an awards reception at Buckingham Palace
a promotion event for the Seed Enterprise Investment Scheme (SEIS) on Friday 16 November at the London Stock Exchange. Michael Fallon and the entrepreneur Doug Richard will be meeting businesses to encourage more investors to make use of this generous tax incentive to help boost SMEs.
The government is also running the Business in You campaign to encourage more people to start or grow their business using a range of existing support services. More information is available at businessinyou.bis.gov.uk. For full details of Global Entrepreneurship Week visit www.gew.org.uk.
Notes to editors:
Global Entrepreneurship Week is hosted in the UK by Youth Business International (YBI). Further information on the week and events can be found at www.gew.org.uk.

BIS will be recruiting two entrepreneurs in residence - one with experience of a broad range of early stage businesses and one who is just setting up a business for the first time. Their role will be to aid and assist the department on small business interests. They will provide support to officials in BIS and across Whitehall on matters relating to SMEs.

The Enterprise Research Centre is a collaboration between BIS, the Technology Strategy Board, the British Bankers' Association (BBA) and the Economic and Social Research Council (ESRC). It will develop understanding of the factors affecting business investment, performance and growth. Warwick and Aston Business Schools have been chosen to host the centre and will work alongside a consortium of other universities including Strathclyde, Birmingham, De Montfort and Imperial College London.

The Entrepreneurs and Education Programme is being funded by £1.1 million of BIS money over three years to provide support and advice to students, teachers and researchers across 100 colleges and universities. Working with NACUE (National Association of College and University Entrepreneurs) and NCEE (National Centre for Enterprise in Education), it will give entrepreneurs the advice they need to commercialise their innovations and grow their business idea. For details of events visit www.entrepreneurialinstitution.org.

The Seed Enterprise Investment Scheme (SEIS) is a generous tax incentive for investors bank rolling small businesses. Investors can receive up to 50 per cent tax relief in the tax year the investment is made, regardless of their marginal rate.

The government's economic policy objective is to achieve 'strong, sustainable and balanced growth that is more evenly shared across the country and between industries'. It set four ambitions in the 'Plan for Growth' (PDF 1.7MB), published at Budget 2011:
to create the most competitive tax system in the G20
to make the UK the best place in Europe to start, finance and grow a business
to encourage investment and exports as a route to a more balanced economy
to create a more educated workforce that is the most flexible in Europe.
Work is underway across government to achieve these ambitions, including progress on more than 250 measures as part of the Growth Review. Developing an Industrial Strategy gives new impetus to this work by providing businesses, investors and the public with more clarity about the long-term direction in which the Government wants the economy to travel.
Published 12 November 2012