News story
Global cooperation feasibility studies: apply for funding
UK businesses could win a share of £1.2 million to carry out short, international cooperation feasibility studies.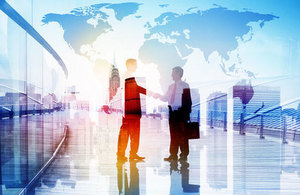 UK businesses looking to create international business networks can apply for funding of up to £21,000. This funding is to enable commercial research and innovation partnerships. It will also help businesses explore ideas for future collaboration.
Innovate UK is funding this competition. It is open to small and medium enterprises (SMEs). The funding will enable SMEs to carry out short feasibility studies and spend time abroad. The competition will encourage UK firms to create long term partnerships with overseas companies. It will also help them gain a better understanding of collaborative opportunities.
This new fund comes the day after the Prime Minister held a round table of SMEs and trade associations. The aim of the round table was to discuss how the government can help them seize new opportunities, particularly exports. The Prime Minister has identified SMEs as the backbone of the British economy, helping to build a more productive and balanced economy.
Science Minister Jo Johnson said:
There are so many innovative companies up and down the country, challenging norms and pioneering new technologies. As science and research becomes more international we want to encourage these companies to forge collaborations across the globe that will help bring their products to mass market. By supporting them to showcase our innovation expertise, we can attract investment, create jobs and help to grow the UK economy.
Chief Executive of Innovate UK, Dr Ruth McKernan, said:
This competition is about pushing out the horizon for companies that haven't had the means, or inclination to think globally in the past. It will get ideas off the drawing board and into markets around the world, with new partners they may not even have imagined working with previously.

Business, like science, is a global endeavour. Now more than ever, it is critical that UK companies continue to partner with other businesses and research establishments right across world if they are to remain competitive.
Competition information
The competition opens on 5 August 2016
The deadline for registration is noon on 21 September 2016
The deadline for application is noon on 28 September 2016
A UK SME must lead the project
You can carry out the project on your own or work with other UK partners
Only UK SMEs will receive funding
We will fund projects with eligible costs of up to £30,000
Businesses may receive funding of up to 70% of their total project costs
Projects should last up to 4 months
Published 5 August 2016
Last updated 5 August 2016
+ show all updates
Jo Johnson and Ruth McKernan quotes added
First published.