News story
Glasgow to be the centre of Commonwealth events to mark the centenary of the start of First World War
Michael Moore announces events in Glasgow to commemorate the 100th anniversary of the start of the First World War.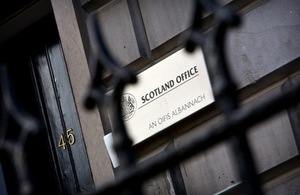 Commonwealth heads of state are being invited to remain in Glasgow at the end of the Glasgow 2014 Commonwealth Games to take part in an event to commemorate the 100th anniversary of the start of the First World War, the Secretary of State for Scotland Michael Moore announced today.
A special service at Glasgow Cathedral will be followed by a wreath laying service at the city's Cenotaph on Monday 4 August 2014, the day after the closing ceremony of the Commonwealth Games, which will be attended by Commonwealth leaders from across the globe.
The UK Government is inviting them to stay on for the centenary service in the city the following day.
It will represent that focal point of the UK's and the Commonwealth's activities to mark the centenary.
Secretary of State Michael Moore said: "Next year's events to commemorate the First World War will reflect on the human cost of the conflict which involved those from across the UK as well as throughout the wider world. A special service in Glasgow to remember the fallen and their sacrifice will be a fitting tribute to their memory and the attendance of Commonwealth leaders will add to the sense of occasion."
The Lord Lieutenant, Glasgow's Lord Provost Sadie Docherty, will lead the landmark service remembering Britain's role in a war begun 100 years ago.
Lord Provost Sadie Docherty said: "I am delighted to announce that Glasgow will commemorate this significant milestone in our country's history by holding a range of events to mark the centenary year of the Great War, beginning with a special service at Glasgow Cathedral followed by a ceremony in George Square.
"I know this is something that Glaswegians will want to be part of. They value their hard won freedoms and are extremely proud of their city's contribution.
"I am also thrilled at the prospect of our Commonwealth cousins joining me, and the rest of Glasgow, on this important day of remembrance."
Published 16 May 2013