World news story
Glasgow 2014: Scotland welcomes India
224 athletes, significant number of Indian visitors expected at Glasgow Commonwealth Games 2014.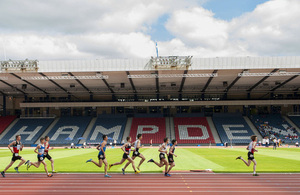 Scottish Development International (SDI), Scottish Government's international investment promotion arm, today said that it expects significant numbers of Indian visitors to travel to Glasgow over the next few weeks for the Glasgow Commonwealth Games 2014, to be held from July 23-August 3 2014. This announcement follows the Indian Sports Ministry's decision to send a sports contingent of 224 athletes under the Indian flag for the Glasgow Commonwealth Games 2014.
Speaking at a function hosted by SDI for the Indian contingent in New Delhi today, Rooma Kumar Bussi, Country Manager, Scottish Development International (SDI), said:
Scotland has emerged as a favoured business and travel destination for Indians.Cross border investment between India and Scotland has grown significantly over the past few years and we expect the Games and the Commonwealth Business Conference to strengthen business linkages between our two countries. We see this as a valuable legacy of the Commonwealth Games.
Glasgow Commonwealth Games 2014
17 sports, 261 medal events
Aquatics, Athletics, Badminton, Boxing Cycling, Gymnastics, Judo, Lawn Bowls, Netball, Rugby Sevens, Shooting, Squash, Table Tennis, Triathlon, Weightlifting, Wrestling
6500 athletes from 71 nations
224 Indian athletes from 14 sports disciplines, seven Indian para-athletes
14 historic venues
1,000 people employed
£32million+ turnover, 1 million tickets
£1 mn supported business contracts - employment to people with disabilities
Humza Yousaf, Minister for External Affairs and International Development for the Scottish Government, who visited India last year, extended a warm welcome to Indians to be a part of the Glasgow Commonwealth Games 2014.
He said, through a media statement:
We welcome all our friends from India to come and visit Scotland during the Games. It will be a privilege to host you in our country and we look forward to it.
Rajeev Mehta, Secretary General, Indian Olympic Association, a key speaker at the event, will accompany the Indian contingent that is travelling to Scotland for the Games. Indian CWG delegation members Karnam Malleswari (Weightlifting), Zafar Iqbal (Hockey), alongwith the Indian Judo, Ice Skating and Gymastics team members; and officials from all major sports federations in India attended the function.
More than 200 global business CEOs and political leaders are expected to be present at the University of Glasgow at the opening ceremony of the Glasgow Commonwealth Games on July 23 2014. Business visitors are expected to attend the Commonwealth Games Business Conference and the 11 business events showcasing sectors such as Food and Drink, Renewable Energy, Oil and Gas, Financial Services, Creative Industries making it one of the most collaborative partnerships between sports and business. For more info on the games and business programmes, please visit Glasgow website
Further information:
Indian contingent at the Glasgow CWG 2014
India will field a strong 224 member contingent in the Glasgow Commonwealth Games to be held from July 23 to August 3, with track and field athletes forming the biggest squad of 41, followed by 32 hockey players 32 (16 men and 16 women) and shooters (30 marksmen). Para-athletes will compete in 22 events in five different sports (athletics, cycling, lawn bowls, swimming and weightlifting).
Indian-Scottish trade and commerce
There are 10 Indian owned companies operating in Scotland employing 3,000 people with sales of £256m (source: ONS).
Scottish exports to India: £243m in 2013 (HMRC: only tradable goods, not services), 30% increase of 5 years
Indian imports to Scotland £143m in 2013 (HMRC), over 60% increase in 5 years
30 % increase in the number of Scottish companies, supported by SDI, to set up and develop business in India.
Visitors to the past Commonwealth Games
KPMG study of the Commonwealth Games in Melbourne said it was worth about £150million to tourism.
One million visitors came to Manchester 2002 over the 10 days of the Games and there was £18m of net expenditure
An additional £46m has been spent by visitors in the region during and since the Games and an additional 300,000 visitors to Manchester each year as a result of the Games.
About Scottish Development International
Scottish Development International is a joint venture between Scottish Government and its economic development agencies, Scottish Enterprise and Highlands and Islands Enterprise. SDI helps overseas businesses tap into Scotland's key strengths in knowledge, high level skills, technology and innovation. SDI also works to help Scottish companies do more business overseas and to promote Scotland as a good place to live and work. Its work is guided by the Scottish Government's strategy for economic development in Scotland. In Asia, SDI has offices in Beijing, Shanghai, Hong Kong, New Delhi, Mumbai, Hyderabad, Tokyo, Seoul, Taipei, Singapore and Sydney.
For further information, please contact: Misha Bajaj, Scottish Development International on +91 98101 54457 or Amrit Singh Deo, FTI Consulting on + 91 9167428242
Published 17 July 2014