Press release
Give your views on Black Sluice area flood management
People who live and work in the Black Sluice catchment area of Boston are being invited to give their views on a number of options to manage flood risk there.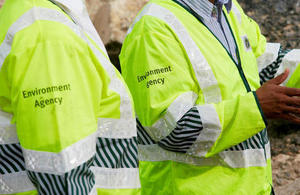 The Black Sluice catchment describes the area of land emptying into the South Forty Foot Drain, which extends from Boston across the South Lincolnshire fens. The Environment Agency manages flood risk within the South Forty Foot Drain and through the Black Sluice pumping station and sluices in Boston, where the water discharges into the Haven.
Public events will be held at Billingborough village hall on 11 March from 12pm – 7pm and at Bicker village hall on 12 March from 12pm – 7pm. Photos and information will be on display, and project team members will be on-hand to answer questions.
The events will present options for Swaton, Billingborough and areas around the South Forty Foot Drain.
There is a history of flooding in the area – mostly from rivers, but also from surface, ground and tidal waters.
Kevin Abbott, Flood and Coastal Risk Management (FCRM) Advisor for the Environment Agency, said:
We do annual maintenance in this area to reduce the risk of flooding, but the Black Sluice pumping station is now in need of significant investment.

To provide value for money and find the best solution, we are looking at a variety of options across the whole catchment – and we'd like to take your opinions into account when making a decision.
The pumping station was flooded and three pumps were damaged during the tidal surge of December 2013. The remaining two pumps are 50 years old and near the end of their operational life.
Refurbishment of the pumping station could cost approximately £15–20m.
Published 6 March 2015