Press release
Girton residents to benefit from new monitoring station
The Environment Agency has installed new monitoring equipment in the village of Girton, Cambridgeshire to improve the accuracy of the Floodline Warning Service for local residents.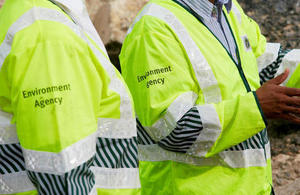 The new station, located at Dodford Lane Bridge, will be used to monitor water levels on Washpit Brook which runs through Girton. The automatic water level recorder will be linked up to the internet later this summer so that the information can be viewed by anyone online www.gov.uk/government/publications/river-and-sea-levels-online.
The Environment Agency has been working closely with local residents, businesses and professional partners since properties were flooded during intense, localised rainfall in July 2012.
Georgina Nichols, flood risk management advisor for the Environment Agency said:
We've been thoroughly investigating the cause of the flooding, looking at different ways to tackle the problem and helping the community to protect itself from future flooding. The new monitoring station will be used to warn residents when flooding is expected, ensuring they have enough time to take action.
One in 6 homes in England and Wales is at risk of flooding, and the Environment Agency is promoting the importance of preparing a flood plan for homes and businesses.
You can check to see if you are at risk of flooding by visiting www.gov.uk/environment-agency and by following the links to Flooding, or by calling Floodline on 0845 988 1188 or 0345 988 1188.
The Floodline service is easy and free to sign up to – the service issues a message directly by telephone, mobile, email, SMS text message, fax or pager when flooding is likely.
Media enquiries: Contact 01733 464357 (during normal office hours, also for emergency service only, 24 hours).
All Environment Agency news releases, both regional and national, can be found on our web site: www.gov.uk/environment-agency
Published 20 June 2014