Gibraltar Regiment trains Gambians for Darfur deployment
Major Ivor Lopez and his instructors have just completed the first week of the three-week package which is designed to train Gambian troops …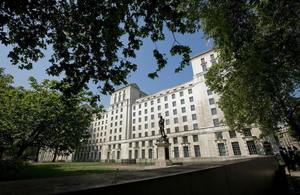 Major Ivor Lopez and his instructors have just completed the first week of the three-week package which is designed to train Gambian troops who are shortly to deploy as part of a United Nations peacekeeping force to Sudan's western region of Darfur.
On this course, a new development has been the introduction of a specialist training package for Physical Training instructors:
The Gambian Chief of Defence Staff asked for this package to be added," said Warrant Officer Class 2 (WO2) Joe Foreshew, of the Army Physical Training Corps, currently attached to the RG.

The Gambians don't have any special training for PT [physical training] instructors," he explained. "It's more a case of, 'You seem a fit lad, so you can get the other soldiers fit'.
WO2 Foreshew is being helped by the RG's Private Chris Redondo who has just finished his PT instructor training in UK.
We don't have any gym facilities whatsoever, so we have had to devise sessions based on what we can find, such as heavy logs," said WO2 Foreshew.
A bigger problem is the fact that the Gambians have no knowledge of anatomy," he continued. "They have never been taught about the workings of muscles or the lungs. But it's only a lack of education - the guys themselves are quite clever, and they are incredibly keen and enthusiastic. I really cannot fault them for their application.
As usual, the backbone of the British Military Advisory and Training Team (BMATT) course is based upon a Peace Support Operations syllabus.
Instructor Sergeant Paul Tinkler has just finished the first phase of operational procedures training:
This is my first experience of The Gambia," said Sgt Tinkler. "I am instructing groups of 60 soldiers, so it's a really good experience for me," he said.

So far, I've been instructing on mine awareness, mine clearance and search techniques. Next week we move on to personal drills, such as public order training, use of camouflage and fire control orders.
Each of the courses is taught by 13 RG soldiers, and supported by two officers from the Royal Gibraltar Police (RGP). Inspector John Goodman is now on his fifth course and, in total, he has trained nearly 600 Gambian police officers prior to their Darfur deployments. However, as he says, no two courses are identical:
The UN Peacekeeping Coordination Centre has asked the Gambians to provide more female police officers so, on my first course, which ended yesterday, all 46 students were female," said Inspector Goodman.

The standard of these female officers has been high - it is very unusual to have three students who each get 100 per cent marks in their end of course exam," he added.
The heat and humidity of the West African summer makes the training tough work for both the instructors and their Gambian students.
Inspector Goodman and his RGP colleague Sgt Adam Bautista are working at the Police Headquarters in Banjul, where there have been regular power cuts since they arrived:
We can manage without our computers, but it's tough to spend all day in a room of fifty people with no air conditioning.
Between the two main courses, the two RGP instructors are running a training day for 70 Station Sergeants:
On this training day, we will concentrate on community policing and problem solving," said Inspector Goodman. "Then, when we finish the next course, we will run another similar training day which will focus on scenes of crime work.

I always get great satisfaction from this work," he added. "It's very gratifying to see the improvements which these students make.
Overall, there are fewer Gambian soldiers and police officers than on some of the previous BMATT courses.
Published 16 June 2011