Ghana: Britain to help reach final stages of poverty reduction
Britain will help Ghana to prepare for a future without aid and ensure that the poorest benefit from the country's record growth.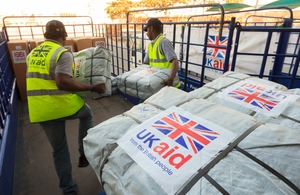 Britain will help Ghana to prepare for a future without aid and ensure that the poorest benefit from the country's record growth, International Development Secretary Andrew Mitchell has said following his first meeting with the new President Mahama.
Speaking from Ghana, he said that if the country can maintain its rapid progress it may no longer need aid, but he warned that a failure to address inequality between the north and the south would delay Ghana's success in  pulling itself out of poverty.
Andrew Mitchell pledged that aid from Britain will be targeted towards kick starting growth and development in the poorest areas, helping 50,000 entrepreneurs and businessmen to bring their goods to market.
Andrew Mitchell said:
"Ghana is fast becoming a West African success story and shows that well-targeted aid can help to make a lasting difference.
Ghana's economy has grown well in recent years, but this growth has bypassed many of the poorest. Britain will help ensure Ghana can free itself from poverty for good."
Over the coming years, aid from Britain will boost education for girls, enable more than 100,000 children who are out of school to receive an education and help to kick-start economic growth by enabling 50,000 local producers in the North of the country to access business services to boost production and bring their products to market.
The UK will also support Ghana's upcoming general election, assisting the Electoral Commission and local police to ensure that it runs smoothly and peacefully. This follows Ghana's five previous peaceful elections, including the last which only had 40,000 votes between the two presidential candidates.
Ghana is firmly on track to halve the level of poverty by 2015. It has enjoyed twenty years of economic growth and five free and fair elections, yet in the north of the country more than two out of every three people currently live on less than $1.25 dollars a day.
The pledge was made following the launch of the first Millennium Village in northern Ghana. In a partnership between the UK, the Government of Ghana's Savannah Accelerated Development Authority (SADA), and the Millennium Villages Project, this new project will improve the health, education and future chances of up to 30,000 people currently living in abject poverty.
Ghana demonstrates how well-targeted aid from the UK can make a difference to millions of people's lives. Since 2010 UK aid has distributed more than four million anti-malarial mosquito nets.
Published 29 August 2012