Getting to World Cup Matches in South Africa
Remember to allow plenty of time to get into and out of World Cup matches in South Africa.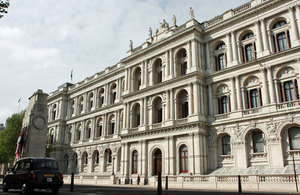 The World Cup party is now in full swing in South Africa. British Consular staff have been on hand to offer support to England fans, and have reported a fantastic atmosphere during and after matches.
Gary Benham, Head of Communications at the British High Commission in Pretoria, was in Rustenberg for England's opening game.
He said: "There was a carnival atmosphere in Rustenburg with American and English fans mixing and enjoying the occasion. It was great to see the fans heading to the stadium early as many people have missed the start of games because of the security checks that are in place."
There have been reports of extended delays for fans leaving stadiums after matches, due to traffic congestion. Roads around stadiums can get extremely congested both before and after games.
If you're travelling to a match, remember to leave as much time as possible to get to your destination, and plan your journey in advance.
For more information on road travel in South Africa, see our World Cup travel advice.
Published 15 June 2010