News story
Getting ready for the Paralympics
The Paralympic Games present a unique operational challenge, and as soon as the Olympic Games finished LOCOG, the Government, the Mayor of London and the transport and security services all began working to get the country ready.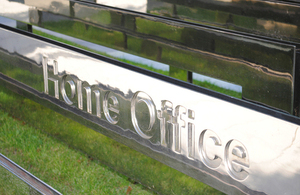 Paralympic Games venues
Most Paralympic Games competitions will take place in venues that hosted Olympic Games competition, though two new venues will be used for Paralympic Games events only:
Eton Manor, which will host wheelchair tennis
Brands Hatch, where the road cycling event will take place
Some Olympic Games venues will play host to different sports during the Paralympic Games. For example, the Basketball Arena will be home to wheelchair rugby, the Copper Box will host goalball and the Riverbank Arena, which staged Olympic hockey, will host 5-a-side and 7-a-side Paralympic football.
Across many venues, spectator seating and press areas have been reconfigured to increase wheelchair seating capacity - for example, in the Olympic Stadium, this has increased by 44%.
Arrival of the athletes
The Paralympic Games pose a particular challenge for airports. Although the number of athletes is significantly less than during the Olympic Games, the challenge of getting athletes through the airport is more complex, as on average, Paralympic athletes bring more personal kit (five bags per person compared with three for the Olympic Games) and have specialist needs.
As part of its £20 million investment in the London 2012 Games, BAA has made a number of adjustments at Heathrow that will benefit all passengers with reduced mobility long after the last medal of the London 2012 Games has been awarded, including:
increasing the number of specialist lifts, known as ambilifts, to help passengers with reduced mobility embark and disembark aircraft (Heathrow now has 12 ambilifts, more than any other airport in Europe)
extra training for staff and volunteers on the correct way to handle specialist wheelchairs and mobility equipment
obtaining 13 scissor lifts and installing 100 new ramps to help load and unload wheelchairs
installing new accessible toilets
Transport
The second week of the London 2012 Paralympic Games coincides with the end of school summer holidays in the UK, bringing new pressure on the public transport network.
During the Olympic Games, the public helped to manage demand by heeding advice to plan ahead and avoid traffic and transport 'hotspot' areas. This will be every bit as important for the Paralympic Games.
Significant investment has gone into making the transport system ready for London 2012, with a £6.5 billion upgrade to tube and rail infrastructure taking place ahead of the Games, including:
more than 2.5 kilometres of track has been added to extend the Docklands Light Railway and its capacity has been increased by 50%
the new Javelin train service moves passengers between St Pancras and Stratford International in just seven minutes
the capacity of the Jubilee line has been increased, with 30 trains per hour at peak times
Stratford regional station has benefitted from a £200m extension and refurbishment project
We are confident that the transport system can deal with the extra demand that comes with the London 2012 Games.
Considerable effort has also gone into making transport services more accessible to disabled people. This includes:
increasing the number of London underground stations which have step-free access to 66, alongside a step-free Docklands Light Railway network
ensuring more than 90 national rail stations have accessible routes between platforms - more than two-thirds of these at key locations for the Games
new lifts, trains, platform humps, wide aisle gates, tactile paving and audio and visual displays
training staff to assist passengers at all Tube stations
a bus fleet which is the most accessible in the world - all 8,500 buses on 700 routes are low-floor wheelchair accessible and fitted with ramps which are checked daily to ensure they are working
Security
London 2012, the biggest sporting event in UK history, will also be its biggest ever peacetime security operation. Since winning the bid in 2005, the Government has been working with LOCOG, police and security agencies to put advanced plans in place for keeping the public and visitors safe.
The UK has extensive experience of handling high-profile global events. Over a period of years we have been working to ensure that visitors and the public can look forward to experiencing a safe and secure Games whilst enjoying the true spirit of the occasion.
Planning for the Paralympic Games has been rigorous to deliver the right mix of police, military and G4S staff on the ground that is necessary to maintain safety and security.
There can be no complacency around security in what is the second biggest multi-sport event in the world.  It will be important that everyone remains vigilant throughout the Paralympic Games as they were during the Olympic Games.
Tourism and enjoying London
With many visitors for the 2012 Games likely to be disabled, there has been a focus on making key tourist destinations more accessible. The Mayor of London and other London authorities have invested £4 million to open up the South Bank of the Thames - making nearly 4 kilometres of riverside promenade more accessible for families, older people and wheelchair users and other disabled people.
Hotels and businesses across the city have adapted their facilities to better support disabled people, and there are also new websites with award-winning apps - www.InclusiveLondon.com and www.InclusiveBritain.com - to provide better information and advice for disabled visitors.
Published 29 August 2012