Getting MOD's message out
It's not every day you get to quiz your boss and ask 'what do you do all day?' I was going to do just that. About to move on, having just completed…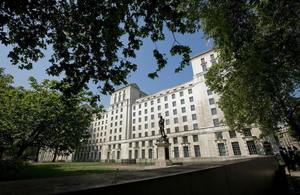 It's not every day you get to quiz your boss and ask 'what do you do all day?' I was going to do just that.
About to move on, having just completed his second stint in the Directorate Media and Communications (DMC), the last three-and-a-half years as director, Nick Gurr was game to go on the record. So what should be my opening gambit?
I'm keen to get across three things Ian," he said straight away. "The breadth of things we do here, that it's a civil-military effort from top to bottom, and that it's about the Armed Forces AND Ministers.
It's perhaps no surprise that as the MOD's outgoing head of profession for communications, Mr Gurr knows what message he wants to get across. So let's start there then:
I think when you mention DMC to people in Defence they think press office. But that only accounts for around 20 people out of a team of 170," he said. I can feel a list coming on.

We do internal comms, so Defence Focus and the web news have important roles. There are also the single Service websites, the speechwriters writing for the ministers, Service public relations, and we do research so we know what the public are thinking about what we are doing.

And of course there's the Defence Media Operations Centre, a truly joint civil-military capability training people in media and comms that can rapidly deploy that expertise when needed.
Of course, a major part of the work nowadays is handling the comms directly in support of operations, particularly Afghanistan. It's not easy doing that justice while penetrating the bombs and bullets with all the other important things that are going on in Defence:
We have significant announcements to make about how we are organised, or maybe a base closure or a new piece of equipment for example," said Mr Gurr. "Things that impact upon people up and down the country. We've got to make sure all that sort of thing is given due weight, in just the same way as news stories that might be dominating the agenda.
Sitting at the apex of a profession of defence communicators, most of whom do not work directly for him, the Director of DMC must try and ensure that defence communicators across the board are moving in the right direction.
Which means having to constantly prioritise and set the agenda about where the organisation needs to put its effort and that the internal and external channels are joined up.
The role of a government department's comms team is to explain government policy, issues and events to the public says the Government Communications Network.
Mr Gurr's last 12 months as director included the formation of a coalition government, a strategic defence review, defence cuts and the tenth anniversary of being in Afghanistan. How have we done explaining the issues surrounding that?
One of the things we have done over the last two to three years is bring a much sharper focus to the way we communicate and organise our comms in support of operations. The way the conflict in Afghanistan is perceived at home and abroad is as important in achieving success in that mission as people firing guns," answers Mr Gurr.
He accepts that explaining to the public about why we are there has been tough:
It's our job to communicate the truth. One of the struggles you have if you are a communicator is if people are sceptical about what you have to say.
Mr Gurr believes that as the mission became properly resourced and real progress was made, so communicating the issues became easier:
Is it all now plain sailing? No, it's still going to be a hard struggle to explain to people why Afghanistan matters. But we are in a much better place than we were," he said.
Drawing on research carried out by DMC Mr Gurr backs up this claim with facts. The favourability rating of the Armed Forces among the public is more than 80 per cent, 'as high if not higher than any other institution in the land'.
The last poll showed that the MOD's favourability rating was at about 56 per cent, much higher than that achieved by most government departments. Mr Gurr believes that reflects how the MOD benefits from its association with the Armed Forces:
I think the public realises that the Armed Forces couldn't achieve all that they have if they were part of an organisation that was as useless as the media sometimes would like to have you believe.
That's quite an achievement if you feel, as Mr Gurr does, that just a couple of years ago the MOD was in real danger of losing public support for the mission in Afghanistan.
Keeping the communication process going during the elections within the constraints of Cabinet rules of purdah was challenging said Mr Gurr:
We were at a very busy and critical time in Afghanistan, and we had to continue to tell the story in a way that wouldn't interfere with the election campaign. But we couldn't have a six-week gap where we were off air.
Maintaining the Armed Forces' reputation and using it to promote the work of the MOD has been a central plank of Mr Gurr's directorship. The Sun's military awards, the Millies, have proved to be a valuable way of raising our profile. But not everyone was convinced to start with:
There was a degree of scepticism about it. People were worried it would impact on the gallantry awards system, and others felt it was inappropriate to get involved with an event sponsored by a tabloid newspaper.
Mr Gurr's view was simple, that this was a great opportunity to bring alive some of the amazing things we do through the pages of one of the UK's biggest selling newspapers:
Though we had to do a bit of walking the MOD corridors evangelising to make it happen," he said.
The Department's relationship with the press was once likened to two scorpions dancing round each other inside a ring of fire, but Mr Gurr fervently believes that's outdated thinking:
When I came back to DMC in 2006 it struck me that there was no conversation going on with the media other than over individual stories. There was no debate about how we worked together, how we might provide a service for them, which might make things better for us.
Within six months he arranged a meeting with the press to sort it out:
It was a pretty brutal experience. There was a lot that both sides needed to get off their chests. But we've done this annually for the last four years and each time is better and more constructive than the last.
Maybe this healing process helped the brokering of an unprecedented deal between the MOD and the media when Prince Harry deployed to Afghanistan:
People are quick at times to criticise the media, but they behaved incredibly responsibly throughout all of that. It was an extremely successful piece of co-operation.
The deal was that in exchange for a media blackout, press embeds and embargoed interviews with the Prince throughout his tour would be organised.
Armed Forces Day is another example of innovation:
Taking an idea put forward by the Government, we made it better than before," said Mr Gurr. "It gave us a chance to be creative, and to use social networking in an innovative way. We have a talented team who thrive on the opportunity to be proactive and creative.
But now that his successor, Simon Wren, has taken over the balancing act, has Mr Gurr enjoyed his time?
I will miss it tremendously. You have to be of a certain age to get this, but being in DMC is a bit like going to 'The Hotel California'. You can check out any time you like, but you can never leave.
Sadly, I am old enough to get it.
This article is taken from the May 2011 issue of Defence Focus - the magazine for everyone in Defence.
Published 13 May 2011