Germany and the quest for EU stability
Minister for Europe David Lidington has taken part in a panel discussion on Germany and the Eurozone.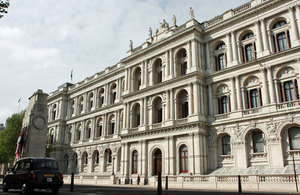 Speaking at an event hosted by the German Ambassador, Georg Boomgaarden, and Business for New Europe, Minister for Europe David Lidington underlined the importance to the UK of a strong and stable Eurozone.
David Lidington said:
"A strong and stable Eurozone and Europe is in the UK's interest. Over 40% of the UK's exports go directly to the Eurozone.
"But it's not just the UK that depends on the Eurozone as a trading partner. Around 15% of the USA's exports are to the Eurozone. The USA in turn is our largest trading partner. A downturn there would have severe knock-on effects for the UK. The global market turmoil over the summer has demonstrated clearly how contagion can spread rapidly around the world.
"The Eurozone is also a major partner for the UK in both inward and outward investment. Much of this profitable activity is facilitated by financial experts, many based at banks or investment houses headquartered here in London."
The panel, which included Member of the Bundestag, Peter Altmaier, and Pavel Swieboda, President of Demos Europa, also discussed Germany's relationship with the Eurozone, and the potential of low-carbon innovation to create growth and jobs in Europe.
Speaking about UK - Germany trade relations, David Lidington said:
"Germany is one of our most important global partners. German investment in the UK is an important element of our growth agenda. More than 2500 German companies are active in the UK, employing almost 400,000 people. In Germany, roughly 1000 British firms employ 200,000 people.
"So Germany and the UK share a commitment to open markets for our businesses. It is important that we work together to address rising protectionist sentiment in Europe and around the world, as tit-for-tat protectionism internationally only risks damaging the fragile European recovery."
Germany and the quest for EU stability
Published 15 September 2011