Gerald Howarth and Andrew Robathan confirmed as Parliamentary Under Secretaries of State for the MOD
Gerald Howarth Mr Howarth was born in September 1947. He was educated at Haileybury and ISC Junior School, Windsor, and Bloxham School, Banbury…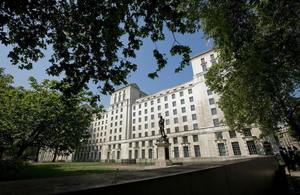 Gerald Howarth
Mr Howarth was born in September 1947. He was educated at Haileybury and ISC Junior School, Windsor, and Bloxham School, Banbury (scholar). He read English at the University of Southampton (BA Hons) where he served with the University Air Squadron and was commissioned into the Royal Air Force Volunteer Reserve in 1968.
Mr Howarth is the Conservative MP for Aldershot and is President of the Air Display Association. In 2006 he became a trustee of the 'Vulcan to the Sky' project which is restoring to flying condition a Vulcan bomber.
Mr Howarth has been married to Elizabeth since 1973 and they have three children. In his spare time he enjoys flying (he has held a pilot's licence since 1965), photography and fishing, and is a church warden at the Royal Garrison Church in Aldershot. He also does the occasional DIY.
Since 2002 he has served as a Shadow Defence Minister with responsibility for defence procurement and the Royal Air Force.
Andrew Robathan
Mr Robathan is the Conservative MP for South Leicestershire. He was born in 1951 and educated at Merchant Taylors' School, Northwood, and Oriel College, Oxford.
He served in the Coldstream Guards from 1974 to 1989 before leaving to pursue a career in politics. He served throughout the world and attended the Army Staff College, Camberley. Mr Robathan volunteered to rejoin the Army, January - April 1991, and served as Chief of Staff of the Prisoner of War Guard Force in Saudi Arabia, Iraq and Kuwait.
Mr Robathan and his wife Rachael have one son and one daughter.
Published 14 May 2010