General Parker reflects on Armed Forces contribution to the sporting summer
Commander Land Forces General Sir Nick Parker has reflected on the contribution Britain's Armed Forces have made to the success of the Olympic and Paralympic Games.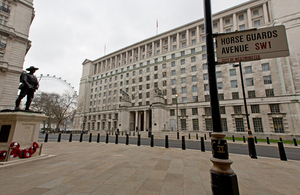 General Parker writes:
This summer of sport has been an extraordinary experience for the Armed Forces. The scope of LOCOG's task dwarfed even our recent experience of large-scale multinational operations.
We had always planned for the Armed Forces to play a part in ensuring a safe and secure 2012 Games. So when we were required to respond to the manpower shortfalls in security we implemented pre-arranged contingencies.
Of course, many were called up at short notice and had their leave cancelled. But, unsurprisingly to me, the response by sailors, soldiers and airmen and women was good-humoured and outstanding - crises are what we do.
We had to set up a complex logistic support plan providing accommodation, feeding and transport facilities from a standing start. Even though we did not have the usual complication of an enemy, operations of this scale - more than 18,000 Service personnel were deployed - still require quick reaction, rapid planning and effective command.
I was always confident that we were well-placed to help deliver the 'Greatest Games' ever. What I was not prepared for was the public's reaction. The messages of thanks and appreciation have been overwhelming and communities across the country have embraced us.
Being seen in uniform carrying out a task to the benefit of all has left us walking just a little bit taller.
I am particularly proud of those serving and former members of the Armed Forces who competed, particularly those who are overcoming injury. It was a moment of great personal pride to watch my son carry the Paralympic Torch down Whitehall.
The mental and physical courage that has been on show has been both humbling and inspiring; spurring one on to try those things that one might feel can never be accomplished.
So what might be the Games legacy for the military? For me, the contact with the public has been invigorating. The bond between the public and Services has been strengthened, the Armed Forces' contribution to homeland operations recognised, and the value of a military career reinforced.
We all recognise their courage on the battlefield but now we have evidence to confirm how well our servicemen and women, regular and reserve, conduct themselves at home. I hope it will encourage others to join.
The most significant act of recognition many of us have had is to be openly thanked in the street - not very British perhaps, and we may have looked embarrassed. But the public's unreserved support for the Armed Forces will have a lasting impact on us.
Published 10 September 2012