News story
GDP figures 'good news for Scotland'
Scottish Secretary comments on latest economic growth figures.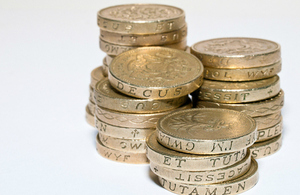 Today's GDP figures are good news for Scotland, according to Scottish Secretary Alistair Carmichael.
Commenting on the statistics, Mr Carmichael said:
The fact the GDP figures show the strongest rate of annual economic growth since 2007 is good news for Scotland.

The economy has grown by 0.7% for the quarter and by 1.9% over 2013. This comes on the back of a sustained period of good news for the Scottish and UK economy.

Our plan for the economy is working and there is still a great deal of work to do.

Scotland continues to do well as part of the UK, with Scottish figures showing the economy here grew by 0.7% and is up 2.1% compared to a year ago, with key industry sectors showing positive growth. Scotland's economic performance is comparable to that of the UK as a whole.

The UK GDP figures come in the wider positive context which show the inflation rate dropping to 2% from a peak of 5.2% in September 2011, a recovering labour market and both the World Bank and the IMF indicating they expect higher global economic growth in 2014.
Published 28 January 2014