Press release
Garage owner guilty of faking MOT tests
Six-month jail sentence and £60,000 court costs for issuing false MOT certificates.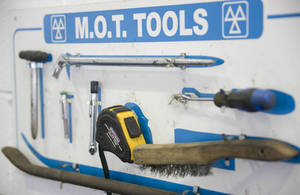 A garage owner has been found guilty at Preston Crown Court of issuing fraudulent MOT certificates to car owners, following an investigation by VOSA.
Noor Hussain ran Altham MOT Centre from Laneside Garage, Livingston Road in Accrington. He was found guilty by a unanimous verdict and was today jailed for 6 months and ordered to pay £60,000 in costs.
VOSA, which monitors Britain's 20,000 MOT test centres, carried out the investigation which uncovered many serious offences including issuing 8 fraudulent MOT certificates.
During the trial the jury saw video evidence showing cars leaving the test bay after an average of between 7 and 11 minutes. An expert witness told the court that normally an MOT test should take around 45 minutes.
In one case, an MOT certificate was issued yet the car had not been on the premises at all.
The court also heard that, over a 4 month period, 2,463 vehicles were given an MOT at Mr Hussain's garage yet none failed. The average failure rate in Britain during that period for an MOT was 32%.
Alex Fiddes, VOSA's Operations Director said:
This sentence is the culmination of a thorough and professional investigation by VOSA staff.

The jury's unanimous decision to convict Mr Hussain of 8 counts of fraudulently issuing MOT certificates and the sentence of 6 months in prison sends a clear message to the small minority in the MOT industry that, if you choose to cheat and defraud the motorist, and put their safety at risk, then the full force of the law will be brought to bear on you.
Notes to editors
VOSA is responsible for:
processing applications for licences to operate lorries and buses and registering bus services
operating and administering testing schemes for all vehicles, including the supervision of the MOT testing scheme
enforcing the law on vehicles to ensure that they comply with legal standards and regulations
enforcing drivers' hours and licensing requirements
supporting Traffic Commissioners to help them make informed decisions on operator licensing, vocational drivers and bus registration requirements
providing training and advice for commercial operators
investigating vehicle accidents, defects and recalls
VOSA media enquiries
You should contact our press office if you have a media query or you're a journalist.
Published 3 November 2010