News story
Gang-related violence being tackled by youth workers in A&E units
The Crime Prevention Minister has praised a pioneering project that places youth workers in hospital A&E units to tackle gang-related violence.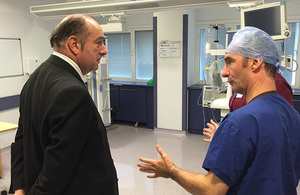 The Home Office recently announced it will pay the Redthread charity £30,000 to expand the London-based scheme.
Redthread will use the money to place youth workers at A&E departments at St Mary's, St George's and Royal London hospitals, building on a successful pilot at King's College Hospital.
The youth workers will offer support to teenage assault victims, helping them to avoid becoming involved in, or to withdraw from, gang activity.
The minister visited St Mary's Hospital in Paddington and spoke to youth workers, doctors and charity bosses about how the scheme works.
Crime Prevention Minister Norman Baker said:
I am hugely encouraged by the results projects such as Redthread are achieving. Intervening early to bring young people out of gang activity has huge advantages for their lives, for society as a whole, and the public purse.

Vulnerable boys and girls can be reluctant to speak to authority figures such as medical professionals and the police. However, we know that if someone they identify with is on hand, they often confide in them.

Placing youth workers within A&E units in problem areas is an innovative approach and I am delighted the Home Office was able to provide funding to expand the Redthread scheme.
The coalition government also recently announced the expansion of its Ending Gang and Youth Violence programme to include 10 new areas.
Gang-related violence being tackled by youth workers in A&E units
Published 20 October 2014