Game Set and Match to Strawberry Scientists
Come rain or shine British strawberries will continue to star at Wimbledon thanks to a Defra-funded project to develop a climate change resistant…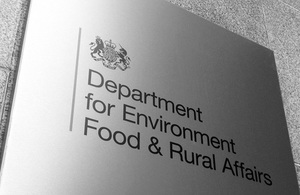 Come rain or shine British strawberries will continue to star at Wimbledon thanks to a Defra-funded project to develop a climate change resistant variety.
Scientists at East Malling Research are developing  varieties of strawberry that are better able to cope with the predicted effects of climate change, particularly higher summer temperatures and less rainfall.  The new varieties will require less water to grow and need fewer chemical inputs, therefore reducing the environmental impact of strawberry production in the UK.
Each year, an estimated 27,000 kilos of strawberries, along with 7,000 litres of cream, are consumed at Wimbledon. With summer upon us and Wimbledon in full swing, demand for strawberries in British supermarkets is sky high, and new more resistant varieties will help growers meet this demand at the championships for years to come.
Environment Secretary Caroline Spelman said:
"Strawberries are quite simply the taste of the summer, as inherently British as Wimbledon itself.  Innovative research such as this may revolutionize the way we grow the nation's favourite berry."
These new strawberries are being bred by crossing robust UK and foreign lines that contain desirable traits such as disease resistance, high productivity and temperatures tolerance. The new strawberry varieties are then being trialled in the field and assessed on six characteristics: yield, fruit size, taste, shelf life, percentage waste and disease resistance.
Dr David Simpson from East Malling Research said:
"Consumer demand for fresh strawberries in the UK has been growing year on year since the early 1990s. The British growers have done a great job of increasing their productivity to satisfy this demand between April and October. The future will be challenging due to the impacts of climate change and the withdrawal of many pesticides but the breeding programme at EMR is using the latest scientific approaches to develop a range of varieties that will meet the needs of our growers for the future."
East Malling Research are holding a Fruit Focus event  on 20th July 2011 where key representatives from the Strawberry Breeding Club will be available to discuss two new UK strawberry varieties.
**Notes **
For more information on Fruit Focus, visit the EMR website.
Published 28 June 2011