News story
Future troops and vehicle commanders train on Salisbury Plain
Military students faced their final test on Salisbury Plain recently during the last exercise of a challenging 6-week course.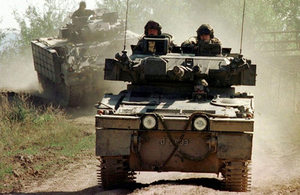 The 22 students, a group of lance corporals, junior corporals and junior officers drawn from the Household Cavalry Regiment, 1st The Queen's Dragoon Guards, the Royal Scots Dragoon Guards, the Royal Dragoon Guards, the 9th/12th Royal Lancers, the Queen's Royal Lancers and the Light Dragoons, have been learning how to be reconnaissance vehicle or troop commanders.
The brigade reconnaissance and light cavalry tactics course is run out of the Land Warfare Centre in Warminster, and the exercises take place on nearby Salisbury Plain.
Major Joe Bigg, a senior mounted reconnaissance officer from the Queen's Royal Lancers, said:
Salisbury Plain provides a good variety of terrains for the students to exercise on; whether that is vehicle manoeuvre, foot patrols or sub-surface observation posts.

With the recent wet weather, the surface conditions were very testing for the tracked vehicles. Although it was tough, the challenging environment added an extra dimension to the exercise.
On completion of the exercise, the non-commissioned officers will qualify as vehicle commanders, allowing them to return to their units to run their own crews and command a tracked military reconnaissance vehicle or a Jackal. The officers will qualify as troop leaders and return to regimental duty to lead a reconnaissance troop of 12 soldiers using the same vehicles.
Exercise Badgers Stress was the last of 4 exercises in the course, and is designed to teach and test the students in all that they have learnt throughout the course. This includes mounted and dismounted observation posts, tactical vehicle manoeuvre, close target reconnaissance and urban operations.
During the final 7-day test exercise the students carried out several challenging tasks. During days 1 to 3, they dug in sub-surface observation posts. They then extracted from the observation post on foot to join their vehicles where they carried out mounted advances.
The exercise culminated in a complex withdrawal that tested the students' ability to tactically manoeuvre whilst remaining in visual contact with the enemy forces. This included conducting a bridge crossing, sending accurate reports and calling in simulated artillery fire, all whilst avoiding being decisively engaged by the enemy.
Salisbury Plain Training Area
Salisbury Plain Training Area is maintained by the Defence Infrastructure Organisation, which delivers the training service, enabling defence training users to live, work, train and deploy at home and overseas.
Published 21 February 2014