News story
Future of Farming looking bright
Fertile Minds event helps young enterpreneurs become leading farm business people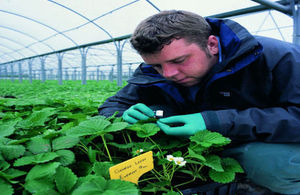 150 young entrepreneurs will gather today at the Fertile Minds event in Berkshire to hear how they can fulfill their ambitions to become leading farm business men and women.
Fertile Minds, put on by Farmers Weekly in association with Tesco, brings together 150 ambitious young farmers in the early stages of their careers for one day of non-stop business inspiration.
Attendees at the event come from as far as Scotland, with a whole variety of motives and ambitions. Some want to run the UK's top farming businesses and be on the forefront of the biotechnological frontier. Others want to educate the public about great British food and ensure the future of their family farm.
Food and Farming Minister, George Eustice MP, will outline at the event how he plans to pick up on the recommendations from the Future of Farming Review.
The minister said:
Agriculture if one of the most vital and rewarding careers on offer today. From food production to science and engineering there is a wealth of opportunity for young people across the sector. Whilst providing us all with the food we eat, farming is also a crucial part of our economy, contributing £9 billion and 450 thousand jobs. We need to make it a more attractive career choice for talented, entrepreneurial young people so it can continue to thrive in the future.

Every industry needs new entrants with fresh ideas to be innovative and competitive and farming is no exception. I want to look at ways of ensuring that bright young people can fulfil their aspirations in the industry.
Farmers Weekly editor Jane King said:
There has never been a more exciting time to farm, but the next generation of farmers doesn't have it easy. Feeding more mouths on less land will take imagination, ambition and lots of thinking outside the box. We hope everyone will leave Fertile Minds buzzing with ideas, and with a much clearer idea how they are going to achieve their business ambitions.
Richard Marris, Commercial Director of Fresh Foods at Tesco said:
As British agriculture's biggest customer, at Tesco we understand how important it is to support and encourage the next generation of farmers. The future of our industry relies on their enthusiasm, innovation and determination to succeed and by working together in partnership, we will continue to deliver the very best: fresh, high quality, high welfare food from British farms for our customers.
Further information:
Published 20 November 2013