World news story
Future NATO - challenges and expectations debate in Macedonia
Ahead of NATO Summit British Ambassador Charles Garrett speaks about objectives of the Summit and importance of NATO partnerships.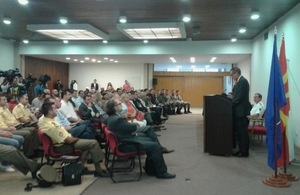 The future of NATO and the objectives of the UK hosted NATO Summit on 4-5 September were the main issues of the public debate organised in Skopje by the Euro-Atlantic Council of Macedonia ahead of the Summit.
Our Ambassador Charles Garrett along with the US Ambassador to Macedonia, the Head of the NATO Liaison Office in Skopje and representatives of the Euro-Atlantic Council of Macedonia spoke about the importance of the coming NATO Summit for what the Alliance wants to achieve, for NATO's operations, partnerships, the situation in Ukraine and the issue of enlargement, which is of importance to Macedonia in its relations with NATO as it strives to become a NATO member.
In his speech our Ambassador Charles Garrett said:
The desire to join NATO, and to do that quickly, is very strong in Macedonia. But while the message on membership remains the same, the declaration from Chicago 2012, the wider outcome from the Summit will be of great importance and relevance to Macedonia. The Wales Summit, if it achieves its objectives, and I am confident it will, will strengthen NATO. And by strengthening NATO, it will bring important security benefits to Macedonia too. The Wales Summit should prove that NATO is a rock-solid alliance with strong partnerships around the world building global peace and stability, and creating a secure environment in which economies can grow and societies prosper.
UK is hosting the largest gathering of international leaders ever to take place in Britain at the NATO Summit on 4 to 5 September 2014. Find out more about the NATO Summit or read about UK and Macedonia defence cooperation.
You can join us on Facebook and Twitter at @ukinmacedonia.
Connect with the British Ambassador at @BritAmbCGarrett or on Facebook.
Speech by Ambassador Charles Garrett at the NATO public debate.
Read our blog ukinmacedonia.
Published 2 September 2014