World news story
Future leaders of Mozambique urged to apply for Chevening Scholarships
Applications for 2015/2016 Chevening Scholarships are now open, closing on 15 November. High Commissioner urges future leaders to apply.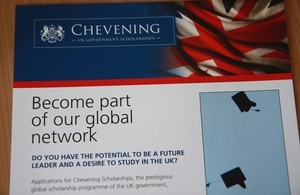 Talented professionals and public servants from Mozambique are able to apply for a scholarship award under the UK's flagship scholarship programme funded by the Foreign and Commonwealth Office.
Awarded to outstanding individuals with leadership potential, a Chevening Scholarship offers financial support for a Master's level degree beginning September 2015 at one of the UK's leading universities.
Applicants have until 15th November 2014 to submit their application.
Her Majesty's High Commissioner to Mozambique, Joanna Kuenssberg said:
"I am delighted to invite applicants from Mozambique to the UK's Chevening Scholarship Programme for the 2015/2016 academic year. Promoting people-to-people links through education is an important part of our work to bring Britain and Mozambique closer. Chevening scholarships have been awarded since 1983. I would urge anyone who is interested in studying at a British university to apply join a prestigious global network of past, present and future leaders."
Awards are typically for a one-year Master's degree, in any subject at any of the UK's leading universities.
To be eligible for a Chevening Scholarship in Mozambique, you must:
Be a Mozambican citizen, and intend to return to Mozambique after your studies
Hold a degree that is equivalent to at least an upper second-class honours degree in the UK
Have completed at least two years' work or equivalent experience before applying for a Chevening Scholarship
Be able to meet the Chevening minimum English language requirement overall score: IELTS 6.5, Pearson 58 and TOEFL 79; and
Be able to obtain the correct visa, and receive an unconditional offer from a UK university.
The Chevening team are particularly interested in hearing from applicants in Mozambique who wish to study in the fields of Finance, Science and Engineering (especially relating to natural resources), Agriculture and Education.
A Chevening scholarship usually offers a monthly stipend, travel to and from your country via an approved route, an arrival and excesses baggage allowance, a thesis or dissertation grant, the cost of an entry clearance visa and tuition fees up to £15,000.
How to apply
Applicants should read the online guidance and be able to demonstrate how they meet the Chevening selection criteria before submitting an application. Further details of the application calendar and priority subject areas are available at the Mozambique Chevening page
Published 13 August 2014