World news story
Future Cell Therapies – Networking at the British Ambassador's Residence in Paris
Government and industry groups met at the Ambassador's Residence to talk about Future Cell Therapies.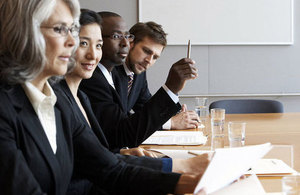 On Thursday 24th April, UK Trade & Investment France joined forces with the International Society for Cellular Therapies (ISCT), the Embassy's Science and Innovation team and the Cell Therapy Catapult to hold a networking reception on the theme of "Future Cell Therapies" at the Ambassador's Residence in Paris.
The event showed that l'union fait la force and that collaboration is key, in business as in science. The event welcomed key players in the international cell therapy field, from industry, academia and government.
The ISCT, who are holding their 20th annual conference in Paris this week, were able to offer their international members an exclusive evening of networking at the Ambassador's Residence, which celebrates its own anniversary this year – 200 years have passed since the Duke of Wellington bought the house from Pauline Borghese and became the first British Ambassador to France.
Keith Thompson, Director of the UK's Cell Therapy Catapult told the audience about the Catapult's state of the art new facilities in Guy's hospital. The Cell Therapy Catapult is an independent, not-for-profit research organisation funded by the UK government's Technology Strategy Board whose role is to bridge the "valley of death" between basic science and commercialisation.
Mark Treherne, speaking for UKTI, explained what the United Kingdom is doing more widely to support the growth of the cell therapy industry. UKTI was also able to reach out to the rising French cell therapies world, which is making great strides in the field.
This is an exciting time for cell therapies, with the UK Government's latest budget announcement promising £55 million to set up a large scale manufacturing facility for Phase 3 clinical trials of cell therapies moving into clinical supply and commercialisation. This "manufacturing hotel" will be managed by the Cell Therapy Catapult, and will allow companies to develop and de-risk their methodology before setting up their own facilities.
Cell therapies and regenerative medicine are a key sector in the Government's Strategy for Life Sciences, which since its launch in 2011 has made great progress in building a better life sciences ecosystem, attracting and rewarding talent, and overcoming barriers to investment. For example, a £180 million Biomedical Catalyst fund has been set up for UK businesses (SMEs) and academics looking to develop innovative solutions to healthcare challenges either individually or in collaboration.
For more information on how the Government is helping international businesses expand in the United Kingdom's cell therapies area, please contact Daniel Ashley (daniel.ashley@fco.gov.uk) at the British Embassy Paris.
Published 6 May 2014