World news story
Funding opportunities: UK and Peru on science and innovation
The British Embassy in Lima and the British Council Peru have opened the call for the Researcher Links and Travel Grants Programme.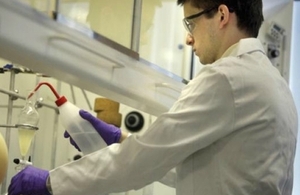 Tackling global challenges – such as extreme weather conditions, urbanisation, access to affordable health care, food and energy security and meeting the social and economic needs of a growing population – requires an integrated research and innovation approach, bringing together communities from different disciplines, sectors and countries in high-quality collaborations.
The Researcher Links Programme aims to build UK-Partner country research and innovation collaborations centred on these shared research and innovation challenges which have direct relevance to both countries' economic development, under two different mechanisms:
Researcher Links Workshops aim to enhance and support international development relevant research, contribute to capacity building of early career researchers, and establish new research links or significantly develop existing links, with the potential for longer term sustainability

Researcher Links Travel Grants aim to allow early-career researchers make international connections that can improve the quality of their research, visiting an institution in the UK or vice versa, strengthen links for future collaboration, build research capacity in developing economies, and enhance the researcher's career opportunities.
The Researcher Links Programme is funded by the Foreign & Commonwealth Office, through the British Embassy in Lima, and implemented by the British Council.
The calls are currently open. For more details about the eligibility criteria, amounts granted, deadlines, and how to apply, please visit the websites:
http://www.britishcouncil.org/education/science/current-opportunities/researcher-links-workshops-2015-july
http://www.britishcouncil.org/education/science/current-opportunities/travel-grants-2015-july
For enquiries or more information, please send an email to: UK-ResearcherLinks@britishcouncil.org or britishcouncilperu@britishcouncil.org
Published 11 August 2015