Funding announced for HEFCE, science and research
Funding allocations to the Higher Education Funding Council for England (HEFCE) for 2011-12 and science and research announced today.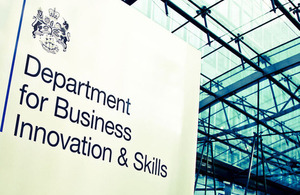 Higher education funding for 2011-12 and beyond
The Government has today published its annual Grant Letter (PDF, 84 Kb) to the Higher Education Funding Council for England (HEFCE).
The letter from Secretary of State Vince Cable and Universities Minister David Willetts sets out what HEFCE's priorities should be when allocating higher education budgets to the sector for 2011-12. It also gives indicative figures for 2012-13 when a new system of student finance comes into effect, with broad projections for the rest of the spending review period to 2014-15.
Over the spending review period, revenue funding for higher education, in terms of grants from HEFCE for teaching and research plus income from tuition charges backed by Government loans to students, will rise from around £9 billion in 2011-12 to around £10 billion in 2014-15. This is a rise of nearly 10% in cash terms.
At the same time, the Government is calling for greater efficiencies in the higher education sector in 2011-12, reflecting the financial constraint required of all publicly-funded services. It has asked HEFCE to build on its work to date with HE institutions to increase cost-effectiveness and improve value for money, maximising savings and deploying the highest possible proportion of available funds to frontline delivery.
Funding for science and research
Funding plans for science and research for 2011/12 to 2014/15 have been published by the Government.
The allocations will provide funding for the new UK Space Agency - to put it on a firm footing to develop space infrastructure, products and services and new research such as:
investigating new approaches to treatment of traumatic injuries in military and civilian settings
supporting rigorous, quantitative methods in the humanities and social sciences with the British Academy.
a new Cross-Council programme on Global Food Security.
The Government intends to announce during 2011 the allocation of funding to a small number of further projects on the 2010 Large Facilities Roadmap.
Written Ministerial Statement (PDF, 56 Kb)
The allocation of science and research funding 2011/12 to 2014/15 (PDF, 526 Kb)
Links
Published 20 December 2010