News story
Fund rewards high street innovation
Local Growth Minister Mark Prisk announces that 7 towns will receive a share of the £1 million High Street Renewal Award.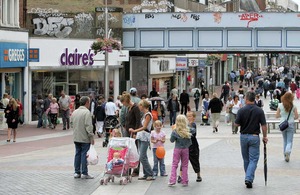 Communities in 7 towns across the country are being recognised for the innovative ways in which they have revitalised their high streets, Local Growth Minister Mark Prisk said today (4 May 2013).
The minister said the 7 towns, which will receive a share of the £1 million High Street Renewal Award, are an example to communities across the country of what can be done to breathe new life into their high streets.
Judged by a panel of experts including Martin Blackwell from the Association of Town and City Management and Andy Godfrey from Alliance Boots, the towns were chosen for the innovative ideas they implemented, the results they achieved and their ability to promote good practice.
The 7 towns are:
Herne Hill, London: who by cutting red tape and putting power in the hands of local people, have created a thriving town square and market in the heart of the community
Northam Road, Southampton: where strong local leadership and public/private partnership is bringing this high street back to life and transforming it into a regional antiques centre
Altrincham, Greater Manchester: where landlords and retailers are working together to bring empty shops back into use, while the council is also encouraging more people to visit the high street by lowering parking charges
Ipswich: who, by reorienting their town centre and linking it to a new waterfront development, are regenerating the area
Market Rasen, Lincolnshire: who are 'putting the market back into Market Rasen' by strengthening the local market and setting up community shops to offer local products
Gloucester: who are supporting local start-ups and growing businesses, resulting in record new company registrations in the area
Rotherham: who are focusing their strategy on creating a differentiated shopping offer with independent businesses filling their empty premises, whilst also increasing consumer satisfaction and driving footfall
Mark Prisk said:
The High Street Renewal Award has encouraged towns to 'up their game' and put their best ideas to work in order to save their high streets, and we were delighted to see the high level of applications from all over the country.

These are just 7 of the many towns that came forward, and they are a shinning example of what can be achieved. I would like to congratulate them for the innovative and interesting ways in which they have given their high street a new lease of life.

It is in everyone's interests to see our town centres thrive, and I want people across the country to take inspiration from these towns and look at what can be done when communities work together.
Martin Blackwell, chief executive of the Association of Town and City Management, said:
The public recognises that high streets are important and are responding with their feet, purses and wallets. Some really interesting ideas have emerged from this competition that all town centres can learn from and take heart from. I have no doubt that they will do just that.
Alex Gourlay, Chief Executive of the Health and Beauty Division at Alliance Boots, said:
Boots UK strongly supports the pursuit of creating healthy and prosperous high streets which can be essential, if not the most critical, ingredient in supporting the regeneration of local communities.

High streets are vital for the health of our communities, providing services and support that are accessible and within easy walking distance for many people.

We are proud to have supported this competition, and to be working with others also committed to the future of our high streets and ensuring their growth and success in years to come.
Further information
The High Streets Renewal Fund is part of the government's support for communities across the country to rejuvenate their high streets. It rewards areas already delivering the most effective and innovative plans to bring their town centres back to life. A panel of experts visited areas bidding for the funding to evaluate the projects in terms of innovation, effectiveness, the transformative nature of the changes, how replicable the ideas are for elsewhere, and their ability to promote good practice.
Today's winners receiving a share of the £1 million High Street Renewal Fund are:
Herne Hill market: £93,057
Herne Hill showed how cutting red tape has led to a thriving square and market. The local council delegated powers to manage shop frontage and public realm to a community group who have set up a market from scratch in less than 1 year. What was once a through road is now a pedestrian zone where the community comes together and the market grows from strength to strength with activities such as an outdoor cinema and music events. Their own research has showed increased footfall and trader revenue after the market was set up. Their future plans include involving local school children in an art project to dress the tunnel, outdoor furniture design skills being provided by local college students and a local music group putting together regular outdoor performances.
Old Northam Road: £88,657
Northam Road in Southampton showed how it is possible to bring a neglected high street outside the city centre back to life with strong local leadership. A partnership between public sector, private developers, charities, university and local businesses is renovating the public realm and using formerly empty shops to help expand local businesses and bring this Victorian/Edwardian shopping street back to life. Drawing on the area's past they will use the award to develop an international reputation as a specialist antiques centre, and will invest in increasing local skills in restoration and customer hospitality.
Altrincham town centre: £148,057
Altrincham Forward has shown how a public/private sector partnership can bring empty shops back into use and support local retailers. Landlords and retailers have worked together and used windows in empty shops to successfully promote local businesses, and have worked with community representatives to create a well-being pop up shop in an empty unit. Altrincham Forward set up a twilight market during Christmas that increased footfall in the town and is now a permanent fixture, and there are now regular events bringing the historical market back to life. Trafford Council is also supporting the town centre by lowering parking charges, which has resulted in a 58% increase in car park use.
Ipswich town centre: £168,057
Ipswich is delivering a large scale project to renovate their town centre, including reorienting their high street from east-west to north-south to link the historic retail area with the new waterfront development and to encourage more people to visit. They are developing a strong events programme under the 'Celebrate Ipswich' banner, including the Maritime Festival which increases footfall year on year. Footfall counts in specific locations have helped to attract private sector investment such as new stores. They have used innovative planning permissions which will turn a vacant department store into a new leisure complex with cinema, gym, cafes and small shops. The award will be used to extend the 'Celebrate' concept, and to reinforce the new link between the waterfront and the town centre.
Market Rasen is improving their retail and service offer to encourage the community to shop locally. They have set up 2 community shops – a fruit and veg shop that sources local produce, and a local arts and crafts shop that provides a place for the local community to test-sell their products. They are 'putting the market back into Market Rasen' by organising themed events. This is bringing the traditional market back to life – monthly markets regularly exceed 60 stalls and have secured a national award as Britain's best small speciality market. They will use their awards to invest in further visual improvements, create a community cafe and visitor centre and attract more tourists to the market.
Gloucester city centre: £133,057
Gloucester is using tourism to attract business and boost trade. They created a night market, and encouraged a cluster of independent shops. Strong support to local start-ups and growing businesses include a volunteer expert panel to give business plan advice, along with financial help, resulted in record company registrations in 2011 to 2012. The award will be used to continue with support for business and to further improve activities such as night markets, history festival and independents day.
Rotherham town centre: £268,058
Rotherham have based their high street strategy on the recognition that independent shops help differentiate the town centre offer from that of their nearest competitors. They have helped bring new retail offers to the high street and grow existing businesses. Most recently they have welcomed a traditional sweetshop, the county's only Temperance Bar and a new vintage store to the town centre. The projects were based on a detailed understanding of who their existing and potential customers are and what they wanted from the town centre. Their effort has resulted in an 8% increase in footfall in 2012. Consumer satisfaction with the shops rose from 42 to 92% in 2012 (compared to 2009).They plan to use their award to increase support for businesses and provide joint or stand-alone trading spaces to encourage the development of new business ideas.
The government is committed to help communities rejuvenate their high streets.
A multi-million pound strategy is backing local partnerships such as the 27 Portas Pilots and over 330 Town Teams to breathe new life into their town centres. This includes mentoring from retail experts and workshops to address town centre challenges.
The government is providing over £80 million of start-up loans for young entrepreneurs. We have doubled small business rate relief for 3 and a half years to help small shops, and made it easier for small firms to claim small business rate relief through the Localism Act. Over half a million businesses in England are expected to benefit, with about a third of a million of businesses paying no rates.
Planning restrictions have been lifted to help landlords make better use of their empty properties, either by allowing them to lease for shorter periods, helping start-up businesses to set up in the high street, or by making it easier to turn commercial properties into residential facilities to increase resident population and local footfall.
The Future High Street Forum brings together brings together leaders across retail, property, business, academics, third sector, civil society and government to drive forward new ideas and policies to help communities revive their high street.
The government is supporting the Love Your Local Market campaign, to celebrate the role markets can play in regenerating high streets and offer budding entrepreneurs the chance to test their business ideas. The Love Your Local Market 2013 will take place from 15 to 29 May.
Published 4 May 2013