"Fulfil your global potential with a career in the European Civil Service"
Minister for Europe David Lidington will speak at Cardiff University to encourage British students to consider a career in the EU Civil Service.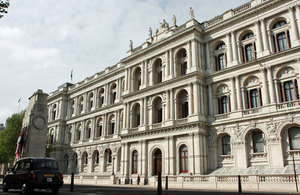 He will give students an insight into what it's like to work in Brussels and explain why the UK Government is strongly encouraging British students and professionals to apply. He will be joined by Secretary of State for Wales Cheryl Gillan.
Huw Davies, a graduate from Cardiff University who now works in the EU Civil Service in Brussels, will also speak to students about what it's like to work in this field and what an EU Career has to offer.
The event is part of EU Careers Month and is supported by the launch of a new website which contains top tips, videos, case studies, blogs and useful information about careers in the EU Civil Service.
The opening date for applications for the next EU Competition, the entrance exam to join the EU Civil Service, is 16 March. Thanks to a revised recruitment system, final-year undergraduates can now apply, and the recruitment process has been reduced to around nine months.
Speaking ahead of the visit the Minister for Europe said:
"I am very pleased to have this opportunity to encourage students at Cardiff University to consider a career in the EU Civil Service. The EU needs outstanding generalist civil servants from a wide variety of academic backgrounds, as well as specialists such as lawyers, economists, auditors, interpreters and statisticians.
"These are careers packed from the outset with interesting, challenging work that really makes a difference: shaping the policies, creating the legislation and negotiating the solutions which make the headlines across Europe every day. More importantly, thanks to the work the EU has done to improve the selection procedure, students can now apply in their final year of study, and can expect the whole process to last around 9 months, compared to the two years it used to take.
"I encourage all students and professionals who might be interested in an EU career to visit our website.
Huw Davies who heads up the Communications Team at the European Personnel Selection Office (EPSO) said:
"It's very important that British students and graduates are informed about the varied and challenging opportunities available in the EU Civil Service. Every time I speak to people around the UK they are interested and want to know more. I'm very glad that as a graduate of Cardiff University myself I have this opportunity to speak to students about the fantastic prospects in this field of work. In Brussels the Celtic community enjoy an excellent reputation, professionally and socially, so it would be great to attract even more Welsh people to work at the heart of Europe."
Published 16 February 2011