News story
Fuel price breakthrough for business hailed by Chancellor
Chancellor visits a courier firm in Solihull to see how falling oil prices has cut costs for a local business.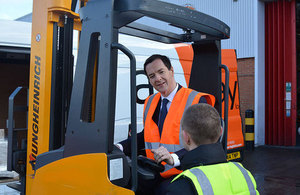 Chancellor George Osborne has hailed a genuine fuel price breakthrough for small businesses as he visited a Midlands Courier firm that is lowering its delivery charges following the fall in prices at the pump.
The Chancellor visited AYS Logistics in Solihull which has cut the fuel surcharge it includes in its delivery charges to customers, following a fall in oil prices and the knock-on effect at the pump.
Oil and gas prices have fallen rapidly in recent months. Since June 2014, global oil prices have fallen from $115 to just above $47 since June 2014, and the Chancellor has made clear that hardworking families should benefit from these reductions at the pumps, in their utility bills, heating oil and airline tickets.
To makes sure this is happening, last week the Chancellor announced the government will conduct internal studies into whether the fall in oil prices is reaching consumers.
AYS Logistics' fuel surcharges on delivery costs were previously 6% in March 2013, but the company has been able to lower them to O% following a fall in prices at the pumps over the last 20 months, saving customers money on their costs of transport.
As a result, an AYS Logistics customer spending £2000 per week is now making a saving of £120.
Chancellor George Osborne said:
My message is clear: oil prices have fallen and those falls should be passed on to families and to small businesses. It's not just the pump prices and energy bills that should fall; things like fuel surcharges can be lower too.
Great firms like AYS Logistics are leading the way by abolishing their fuel charges - and I hope others follow suit. Let's stop hearing excuses and start seeing bills fall.
The government has already taken steps to help hardworking people with fuel prices, including freezing fuel duty for the remainder of this parliament, resulting in the longest duty freeze in over 20 years.
Due to the government's action on fuel duty since 2011, average pump prices will be 18 pence per litre lower by the end of the parliament, than they would have been under pre-2010 fuel duty plans.
By the end of 2015-16, this will save the typical motorist £10 each time they fill their tank.
Managing Director of AYS Logistics Jane Weaver said:
Pump prices hitting nearly £1.50 per litre in March 2013 meant a fuel surcharge having to be put in place for our customers which peaked at 6%. The reduction in pump prices seen by falling oil prices combined with duty freeze's on fuel has allowed us to now remove any surcharge which will, we hope, have a positive impact on our customers who are predominantly SME's like ourselves.
Published 16 January 2015