News story
Fuel emptied from Oldbury's first reactor
The first of Oldbury's two reactors has now been emptied of fuel, the site has announced.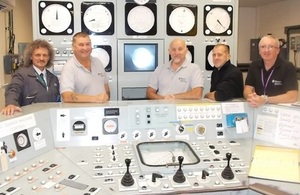 Since the former nuclear power station stopped generating electricity in 2012, the main focus has been to empty both reactors and send the used fuel to Sellafield. When all the fuel has been shipped the site will have removed 99 per cent of its radioactive hazard.
Mike Heaton, Site Director, said:
This is yet another milestone in the life of the site and we will continue to press ahead to complete defuelling the reactors by the end of the year.

Our aim is to ship all the remaining fuel to Sellafield by the early part of next year. Everyone on site is working hard to achieve this target.
Oldbury's reactor one began generating electricity in 1968, safely operating for over 44 years, it was shut down on the 29 February 2012. At the start of defuelling the reactor held a total of 25,826 fuel elements, each measuring 43 inches in length which, if placed end to end, would stretch 17.5 miles.
Dr Brian Burnett, Head of Programmes at the NDA, said:
This is an important milestone on the site's journey towards Care and Maintenance and a fantastic achievement.

My congratulations to the Magnox team at Oldbury for making such excellent progress.
Notable achievements for reactor one include:
it held the world record for the longest run of 714 days from 26 May 1989 to 10 May 1991
then achieved an even longer record from 18 March 1996 to 19 June 1998 - 823 days
since first grid connection, reactor one was on power for 13,075 days
Reactor two is currently 85 per cent defuelled, with completion due in October.
Published 12 August 2015