News story
FTSE 350 companies toast 'Cafe Culture' learning
These companies, including 11 from the FTSE 350, represent nearly two million employees. They formed part of a recent 'Cafe Culture' campaign…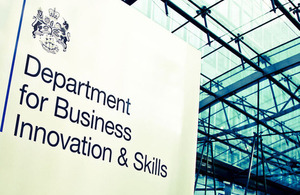 These companies, including 11 from the FTSE 350, represent nearly two million employees. They formed part of a recent 'Cafe Culture' campaign run by Business in the Community on behalf of the Department for Business, Innovation and Skills (BIS) to improve workers' skills.
They include:
*Barclays Bank
*BT
*Channel 4
*FirstGroup
*Ginsters
*Google
*McDonald's Restaurants
*Microsoft
The central aim of 'Cafe Culture' is to promote good practice among employers, so BIS and Business in the Community have today published 'Building the Cafe Culture Movement' to help other organisations to see the benefits of informal adult learning at work.
The resource includes case studies showing how successful companies have seen the business benefits of informal learning, alongside guidance on how to follow in their footsteps.
John Hayes said:
"Businesses have a pivotal role in promoting adult learning, and so have a unique opportunity to change, and indeed improve, people's lives. In turn they can reap the harvest of a productive and engaged workforce.
"The many household names that have pledged to push informal workplace learning through the Cafe Culture campaign is testament to the value they place on developing new skills.
"I am delighted to see such positive results and look forward to seeing adult learning continue to grow at work."
The 'Cafe Culture' campaign, which has been running since 2009, has involved a wide range of sectors, including manufacturing, finance, construction, utilities and food and drink companies.
It took its inspiration from the idea of a wider cafe culture, where people meet informally to share ideas in a fun and relaxed environment. By translating this to an office environment, the intention has been to encourage people to work together as teams to support creativity and improve skills.
Notes to Editors:
'Building the Cafe Culture Movement' can be downloaded from the Business in the Community website at: http://www.bitc.org.uk/workplace/skills/index.html

The learning culture developed by Google, the international technology company, has contributed to its recognition in 2008 as the UK's best place to work and one of the lowest turnover rates in the IT industry (5%).

Merseytravel has enabled staff to take part in training to support the development of both personal and professional skills, with interest free loans to fund personal learning. Merseytravel has seen a significant reduction in staff turnover and a 10% reduction in disciplinary and grievance cases.

Business in the Community has worked since 1982 to inspire, engage, support and challenge companies to commit to a sustainable future for people and planet.
Business Action on Skills is a Workplace campaign that aims to ensure that businesses harness the talent and skills of all to create a globally competitive workforce in the UK, now and in the future.
The full list of companies pledging support is:
Accenture Lafarge Cement
Adnams Lincolnshire Cooperative
Affinity Sutton Group Magnox North
Allied Healthcare Group Marshalls
ASDA Stores McDonald's Restaurants
AVIVA Merseytravel
BAA Microsoft
Barclays Bank MITIE Group
BT National Grid
Business in the Community National House-Building Council
C4 (Channel 4) NEC Group
Carillion Northern Foods
Clugston Group Paver Smith
CMI Polestar Group
Compass Group Reed in Partnership
Croda International plc Remploy
Crossrail Rentokil Initial
DHL Aviation Royal Mail
E.ON UK RWE npower
FirstGroup Salescake
Ford Motor Company Scottish & Southern Energy
Gentoo Group Sodexo
GeoPost UK Southern Railway
Ginsters TD Waterhouse
Global Promise UK Coal
Google United Biscuits
Green Park Interim Veolia Environment Group
& Executive Resourcing VT Group
Incommunities Vue Entertainment
J Barbour and Sons Whitbread Group
JD Wetherspoon Wincanton
JGP
KCOM Group
KPMG
Notes to Editors
Contact Information
Name BIS Press Office Job Title
Division COI Phone
Fax
Mobile
Email NDS.BIS@coi.gsi.gov.uk
Published 25 August 2010