Frustrations, setbacks, fatigue and successes - mentoring the Afghan Army
Major Mark Suddaby was one of around 400 soldiers from 1st Battalion The Royal Regiment of Scotland (1 SCOTS) who have been in Afghanistan for…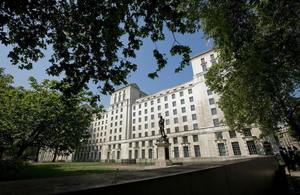 Major Mark Suddaby was one of around 400 soldiers from 1st Battalion The Royal Regiment of Scotland (1 SCOTS) who have been in Afghanistan for the last six months training and mentoring their colleagues in the Afghan National Security Forces.
The battalion arrived home at their base in Edinburgh last week after having transferred the responsibility of partnering an Afghan National Army brigade to the 1st Battalion Irish Guards. See Related News for more on this transfer of authority.
On their arrival in Edinburgh, Commanding Officer Lieutenant Colonel Charlie Herbert spoke of his pride in his soldiers. He said:
They threw themselves into it with complete heart and soul and I'm unbelievably proud of each and every one of them. We lived, we trained, we ate, we slept, we fought and sometimes we bled alongside our Afghan colleagues.

The work is absolutely critical. If we're going to succeed with this campaign - which we will - we've got to get the Afghan Army and the Afghan Police to the stage where they can take over security and responsibility.

We worked very hard with them and we've got them to a point where they are now leading operations in Helmand. It's been a successful tour and I think we've left behind a very rich legacy.
The battalion lost one member during the deployment, Lance Corporal Joseph Pool, who was killed in action following an exchange of fire with insurgents on 5 September 2010.
He was serving as part of the Brigade Reconnaissance Force in Nad 'Ali district. Lt Col Herbert said:
I think as we come back and see our families, and to a certain extent we celebrate our return, it's a time when our thoughts also wander to the families of those whose lives have changed forever, the sacrifices that have been made.

It isn't just those that have been killed. There are a number of fine young men whose lives have changed with very, very serious injuries. There's definitely an element of sadness at this time.
Major Suddaby is a company commander with 1 SCOTS who has been heading up an Advisor Team working with the Afghan National Army's 1st Kandak from 3rd Brigade, 215 Corps, in Nad 'Ali. He has been blogging from Afghanistan on the UK Forces Afghanistan blog site - see Related Links.
In his last post from Afghanistan he wrote:
It has been six months since I arrived in Nad 'Ali. Six months of frustrations, successes, setbacks and fatigue. During that time, I like to think that 1st Kandak have benefited from the bravery and tenacity of the Advisor Teams that I lead. Teams that have gone out every day with their Afghan counterparts.
Teams that have only been certain of the uncertainty that comes with that first step out of the gate. Teams that have battled their frustrations and setbacks to deliver my firm direction: to develop 1st Kandak into an independent and self-sufficient infantry battalion.

Have the casualties and losses that we suffered been worth it? Is the Afghan National Army worth such a heavy price? I think so, yes. In fact, an emphatic yes. They must be. Because they are the future of this poor, war-ravaged country. A country that has been the battleground of other nations for centuries.

Because, when we leave, they will stay and carry on the work of the countless battalions that have already come here and done their duty on behalf of the people of the United Kingdom.
Major Suddaby also wrote about Operation TOR SHEZADA (BLACK PRINCE), which he said dominated activity in August 2010.
The operation involved the seizing and holding of Sayedabad, a small village in the most southern part of Nad 'Ali district and the last to come under Afghan Government control. See Related News to read more about this operation.
Major Suddaby said:
The operation was two months in the planning and when the time came to step off, it was into the blistering heat and cloying dust that we went. It was a 1st Battalion The Duke of Lancaster's Regiment operation, closely supported by 1st Kandak.
This put my Advisor Teams right on the front line. But they are used to that. After a night helicopter insertion of two companies and the clearance of the main routes south by two more, the operation was completed ahead of schedule and declared an important success.

The insurgents fled the area, leaving us to defuse IEDs and build our security outposts. But, inevitably, they came back. So, the battle for Sayedabad continues, with attacks against the outposts and the fight to keep the main supply routes open and free of IEDs.

Long after the media have moved on to other things, the real battle to provide lasting security for this important population centre goes on. There are no decisive victories in a counter-insurgency campaign; just gradual change as one side wears the other into eventual submission.

And brave members of the Afghan National Army [ANA], along with my Advisor Teams, are immersed in that 'contested space'. They fight the conditions, the isolation and austerity of their living conditions, as much as the insurgents. So, Operation TOR SHEZADA continues, but at least we hold the ground now and at least we are setting the conditions for a brighter future for the people who live there.
Major Suddaby said that the priorities now are to reopen the school and clinic:
After all, the people are the prize," he said. "I think it comes back to my first impressions of this strangely beautiful if oddly alien land: the children. If we are here to do anything, it is to secure their future. And when we leave, our legacy must be passed on so that they can have a life free of indiscriminate IEDs, laid by fundamentalists that have lost both their religion and their humanity.
If I ever doubted our endeavours in Afghanistan - what some would call meddling in the internal affairs of a sovereign state - I only have to think of those brightly clothed, wide-eyed children, endlessly asking for 'choklat' and 'peens', with that look of abject pleading that they do so well.

Who is on their side? Which of the armed gangs of men actually care about them and through them the future of this place? Well, from where I sit - high in a Jackal armoured truck, driving around this green and fertile district - it looks like us.

Armies don't do peace brilliantly well, but when there is no one else, who else is left? ISAF may not be perfect, but it is holding the line until the ANA can step up to this complex and mutli-faceted task. I just hope that I have played my part in making these brave Afghan Warriors more able than they were to take that task on.
To read more of Major Suddaby's blogs from Afghanistan visit the UK Forces Afghanistan blog site at Related Links.
1 SCOTS are currently undertaking a series of homecoming parades. They plan to march through Linlithgow on Wednesday 13 October 2010, Colinton on Friday 15 October 2010 and Edinburgh city centre on Saturday 16 October 2010.
Published 13 October 2010